China Training Trip to Fuzhou 2017
By Dave Etheridge-Barnes aka Xiao Davee
Ok, so you may have heard this before but I'll kick off by saying it again. If you haven't been to China before for training and are thinking about it, then you really should go at the next opportunity! Get training now so as to make the most of your time there and hopefully not be injured. Dishu Quan Kung Fu is not for the feint of heart but once you've learnt to keep yourself relatively undamaged and reached a realistic level of fitness it's fantastic fun, and incredibly rewarding. Think 55-60 hours of training plus 200,000 or so steps (give or take a few) and you'll be thereabouts on what to expect to be ready for. Personally I've found over time that a certain degree of mental strength and tenacity combined with good humour will ensure that you can get the most from your time there. This has been my 3rd visit and has, as each time before, been an adventure of epic proportions that never disappoints and always delivers fun and surprises along the way. As perhaps will become apparent reading on, this year's trip will possibly  be commemorated in the history of our club as having been extra special…
The protagonists for this year's excursion were Neil and Max Johnson, Ali Canals, Imogen Thomas, Liz Billington, Dave Edwards (Da Davee), and yours truly Dave Etheridge-Barnes (Xiao Davee).
So, after one of the smoothest flights and connections experiences yet from Heathrow via Shanghai to Fuzhou we were picked up by bus by Master Lin's son Xiang Yao (always a terrific moment to see good friends again), and whisked off to a new Hotel from recent past years trips. On arrival strangely the hotel was deserted like a scene from the 'The Shining'; being Chinese New Year the city was pretty much deserted. According to CGTV News one fifth of the World's population 'goes home' in the largest mass migration of humanity for this period every year in China (it's worth taking a moment to contemplate that figure, it's pretty massive by any stretch of the imagination)…Next morning we found ourselves in the great location of Gulou district of Fuzhou City right next to the beautiful Xichan Temple and Fujian laonian University and only 35 mins walk to Master Lin's training gym. Without wanting to be overly poetical, it's true to say that the air was fresh and the sun was shining as the mountains of Fujian revealed themselves from their misty shroud while we felt the beautiful East Asian Spring warmth greet us to our temporary home.
On to our 1st training session. Master Lin's gym area is located on top of a shopping mall roof, which is always amusing for us to visit due to the feel of its 'real kung fu' backstreet style training atmosphere. This year we had the surprise of finding a whole new market farm plonked on to top of the roof for extra surreal effect! So in amongst the strawberries and cabbages we began our patterns on AstroTurf outside on a shopping mall roof, – like you do of course…After assessment of our progress and meeting our kung fu 'brothers and sisters' again, which was a lovely moment, we did the now traditional supermarket run for essentials (coffee and snacks!). Day one done and dusted. Or so we thought…
Somewhere in the night, I can't rightly remember exactly when between the bleary delirium of travel and jet-lag, and confusion of noise, we were suddenly awoken with loud banging on our hotel doors (which had the feel of someone trying to break in!) and shouts in pigeon English to "Open up!". Of course, self preservation dictated that no way that was going to happen, and raised the two disturbing  questions of who the hell it could be and how on earth did they know that a bunch of Brits were staying on the 11th floor of a seemingly deserted hotel? Early next morning at breakfast all became clear, our old friend Xiao Yi who is somewhat known for being a bit of a party animal had been the culprit. Properly hammered on BaiJiu (homemade Chinese wine/whiskey/sherry tasting rocket fuel) had come looking for his buddies to wish us all a happy new year! Like one does it would seem. Somewhat relieved that we weren't being terrorised by bandits we hopped down the road on what would become our familiar walk to training. This session we were put through our paces for more assessment, and adjustments, and then began the beginnings of preparation for performances to come. Neil and Max put together an impromptu staff exercise which looked great, and Liz rocked the 2 man Dishu pattern with Neil. That evening we were especially treated to a meal at Master Lin's apartment to celebrate Chinese New Year. It was a great time and felt like being with family during holidays. The food was exceptional and included such dishes as the local speciality called Buddha Jumps Over the Wall, Duck, Hot Taro Chinese Iced Cream, Honey Peanut desserts, and a specially baked chocolate cake made by our friend Tanya,  which deserves a mention here. A highlight of the evening was watching the New Year TV show where our guys from team China were performing a pre-recorded demonstration as a part of the celebrations in front of an audience of thousands. It was a very proud moment for us all to see them this way on TV and a reminder that we were being trained by one of the best Masters there is! After much toasting with the now already infamous Bijiu wine we all went outside to cause pyrotechnic mayhem with fireworks and take in the bonfire-night-like atmosphere.
Next morning the firecrackers were still going all over the city when we arose. In fact, there were firecrackers going off all over the place for the whole duration of our trip to such an extent that by the time we travelled home we barely even noticed them! To that soundtrack accompanying us we decided that a peaceful stroll around the adjacent Xichan Temple would be good for seeing off the tail ends of jet-lag and help dispel any effects of over toasting from the previous evening (most wisely training had been scheduled for the afternoon). So much for a peaceful stroll, the Temple was heaving with thousands of people lighting inscence and making prayers. It was an amazing sight to behold so many people descending upon the otherwise tranquil temple in a seemingly deserted city. Everywhere there was lucky money and joss sticks being burned amid the ever growing throng of well wishers – It's traditional to make prayers for one's ancestors at the this of year. Quite a sight with awesome vibes!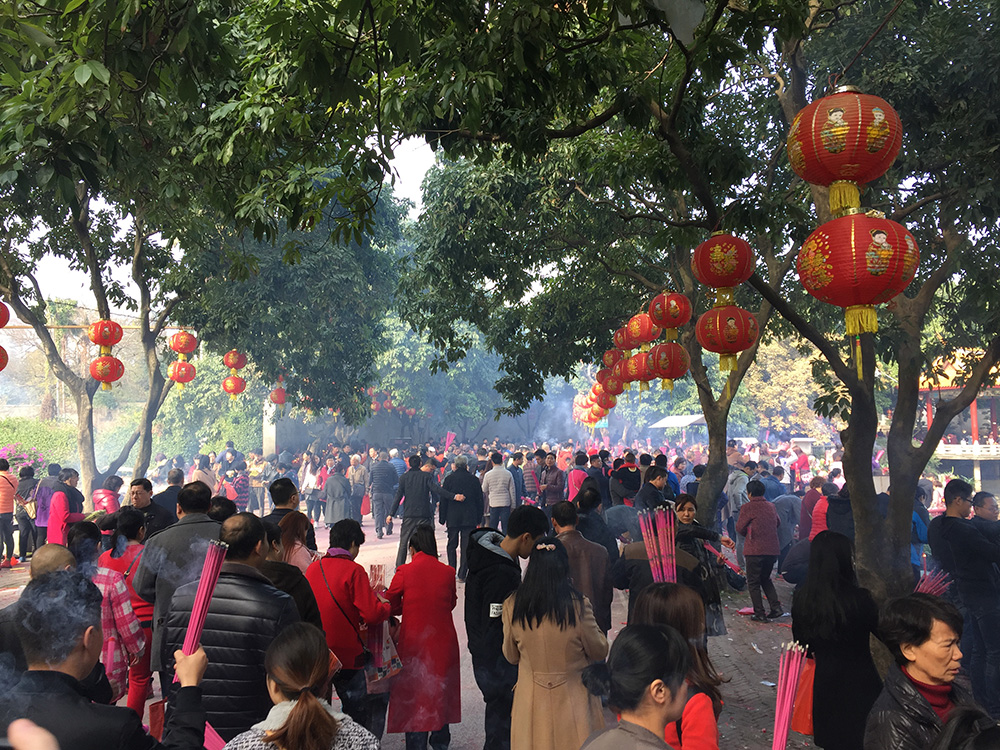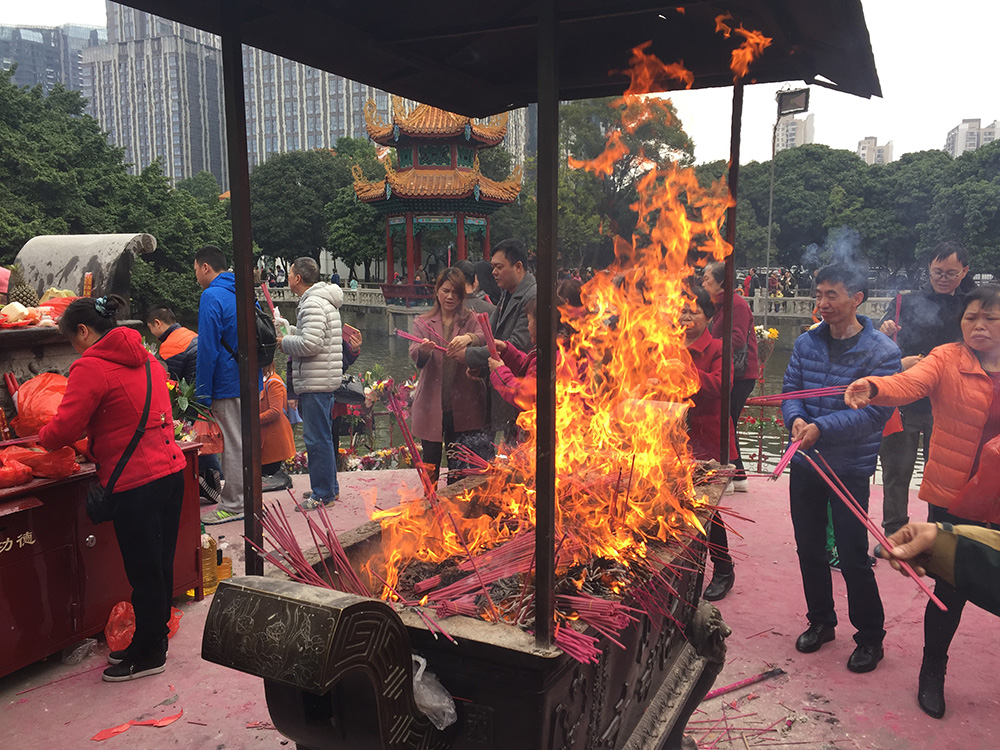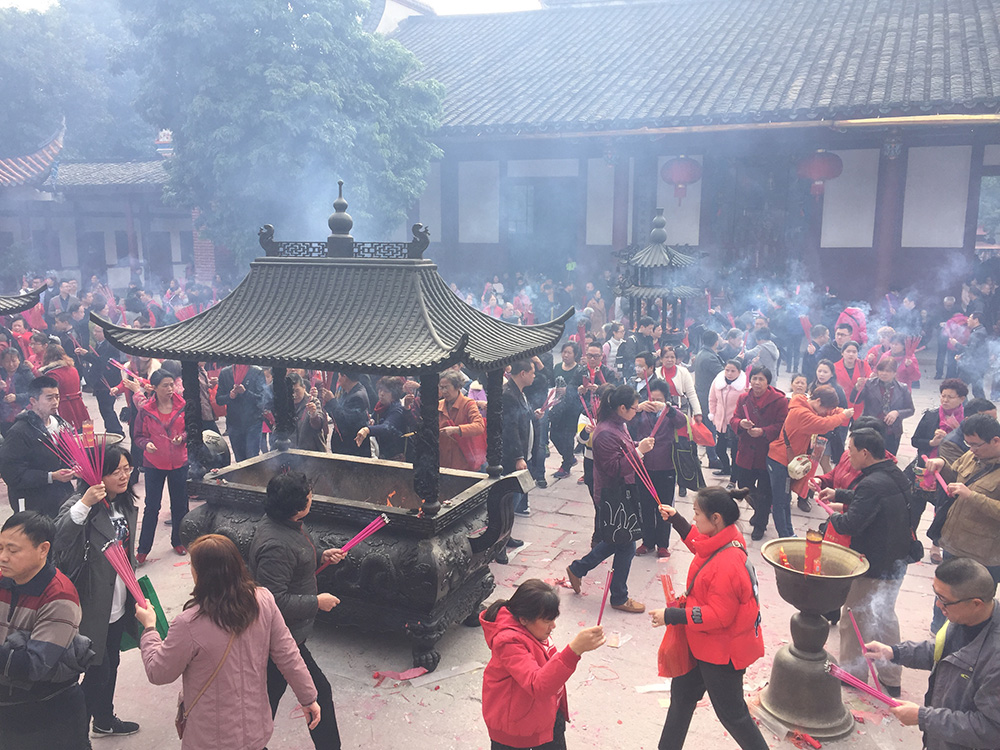 Training that afternoon was a warm one and it was good to see Helene, Marina, Long Hui, Tanya and Arend, and others. Master Lin let Neil take the lead with the lesson and we were able to practice our 2 man patterns along with weapons where it was decided that Neil would be displaying Kwan Dao, and Da Davee would be treating us to Tiger Fork at what would become the finale of our visit – Performing with the Monks at the Putian Southern Shaolin Temple!
Later that evening we took a visit to the 7 Lanes and 3 Alleys district of Fuzhou to grab street food and look for souvenirs to bring home.
Onto day 4. Already the days felt like they were flying by. By now our bodies were becoming accustomed to the daily training as we sauntered off to our morning session where we started to plan the running order of shows and got stuck into some bindings practice. A highlight was Neil performing the Sun and Moon Knives Weapon Pattern in front of the man who had hand made them for him last year. Afterwards we had a look at the 'Creative Park' near our hotel. An interesting area which had all the feel of a hipster artisan enclave-cum-tech-hub gentrification. A sign of future things to come as the old China is being rapidly developed into history in certain areas it feels. The momentum of development in China is astonishing at the moment. On the way back we eyed a good spot of marble floor in the nearby University grounds for practicing our Dishu on and took advantage of the 'super-glide' that marble provides. It's ironic to think that a few years ago rolling on a marble floor would  strike fear into some of us, well me certainly at least. Dishu Quan is one of those things where you tend to find yourself being something of a floor connoisseur after a while and once you've learnt to throw yourself at the ground and effectively miss, you generally prefer more skid-able surfaces!
Back to the 7 Lanes and 3 Alleys in the evening as it was easy to get to and has plenty of food options. It was here we began to notice amidst the holiday crowds the amount of pet dogs everywhere. Not just dogs on leads, but full on Beverly Hills style dogs in little jackets and sweaters. Fuzhou is most definitely a city of pet owners; so I think it can be said that dogs on the menu would most likely be something of an anachronism here nowadays.
Next morning was the now usual ritual of breakfast then walk to training. This time Master Lin's oldest son Zhen Quan or Da Shir Shong (literally translated as older brother teacher) as properly addressed was able to join us having recently returned from visiting relatives for the New Year break. More practicing for the up-coming shows was followed by more binding practice. Master Lin was seemingly happy for Neil to take the lead in the training session and would get more involved where details needed changing and questions arose. It was at this point that a couple of us began to notice that a little more may be going on behind the scenes than had at first met the eye, it began to appear that Neil's method of teaching and knowledge of the art was being observed closely…Anyway, it was clear to see that all of us were gradually improving and tightening up our Kung fu as the amount of time to focus and expert coaching were beginning to make their effects felt.
That afternoon we took a bus ride to the very pretty West Lake Park located in the middle of the city. It is a lovely oasis in the city where it's quite normal to see public Tai Chi and Dancing being practiced. This is something the Chinese people are very good at; using parks and open areas fully to their potential. It's a shame that we in the west don't appear to wish to use such spaces to their potential in a similar way any more. On the way back we grabbed coffee from one of the now plentiful Starbucks style coffee shops abundant in the city and had a look at the recently inaugurated brand new tube line. So much modernisation has happened in just a few months since we were last visiting that it seems incredible how people can manage with such a pace of change to their surroundings and environment. China is absolutely going through a development revolution.
Next up, Day 6. This morning's training was more of the same, binding techniques and preparation for the shows. As the weather was mild, we were outside again on the AstroTurf. Master Lin made a gem of a quotable comment about Neil's understanding of Dishu Quan: "Not many students  are shown through the 1st door, but Neil has all the keys and know what door you are coming in next". A great compliment to Neil's exceptional insight, knowledge, and ability. After training, a quick detour was taken to restock on those all important provisions from the supermarket and then onto our extra practice marbled area to work on what we had been shown in the morning. In the evening we took a bus ride over to Wuyi Square, where there's a massive statue of Chairman Mao lit up at night. Here we also visited Wuyi Temple which looked amazing at night adorned with red lanterns. Korean food was found and eaten and then back for an early night.
The next day was a sans training day. Instead we were taken to the village where Dishu Quan had resided and the lineage was held right up to Master Lin's teacher Grand master Chen Yiju had taught until his passing at the ripe old age of 94. We gratefully accepted the opportunity to join in with paying our New Year respects to his teaching and memory in the training hall constructed upon the area near where his house had once stood. Old and new 'dog boxers' all gathered together made for quite an emotional atmosphere with the great feeling of comradely bonds reaching across geography and time joined together by common cause. This was followed by traditional lunch hosted by the Mayor of the village and attended by generations of Dishu Quan practitioners along with some particularly high ranking party officials and VIPS. The lunch was exceptional and consisted of 18 different dishes. It sticks out for me personally as it was the 1st time I've eaten snake soup –  I never thought I'd be doing that 5 years ago (let alone be on my third trip to China training Kung Fu!?!), and actually quite liked it! Other dishes included Abalone, corpse eating eel, assorted Shellfish, Duck, and Jellyfish.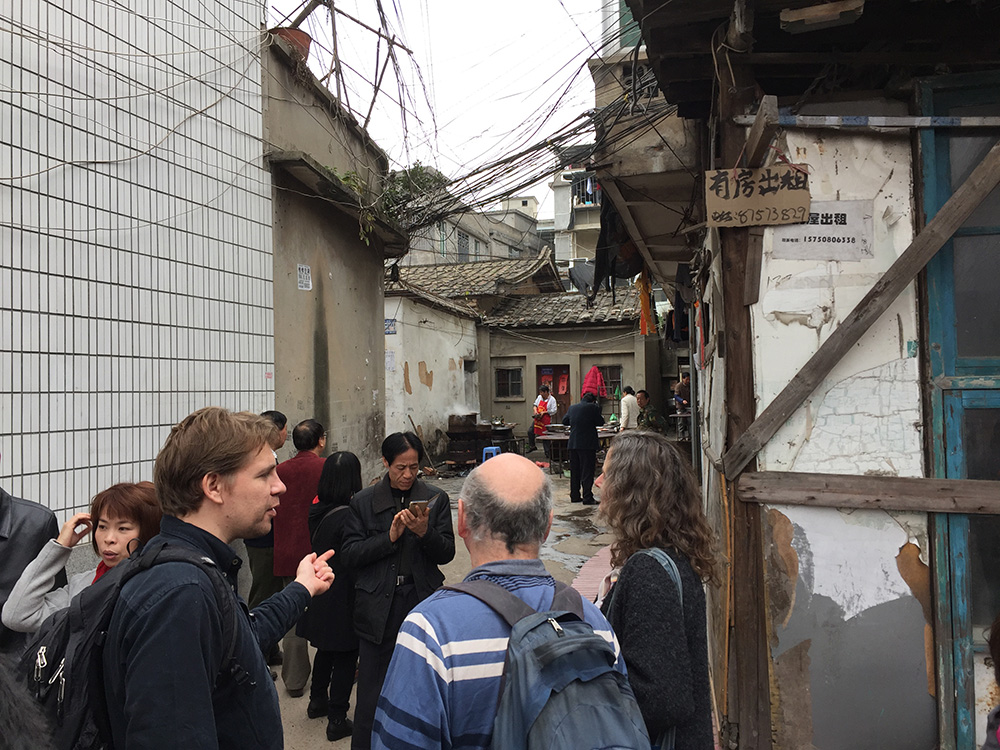 Over lunch it was mentioned in passing that a couple of us wouldn't mind trying to find the White Crane Nest Temple where the Calling Crane Style Kung Fu is practiced and Karate are purported to have been first taught… On leaving the lunch it was amusing to see the kitchen where all our food had been cooked out in the street; Very authentic China! After paying respects at the local Taoist Temple and letting off some particularly impressive firecrackers for health, wealth, and happiness we embarked on the brand new tube line off to find the aforementioned White Crane Nest Temple…
What we had initially expected to be something of an easy afternoon's stroll of sightseeing/tourism turned fairly quickly into an almost epic trek. So, as we approached the mountain where we knew the aforementioned Temple is located we felt fairly confident that it would be no longer than a 10 min hike to the site. Unfortunately with the best will in the world Xiang Yao's friend who had offered to come along and lead us there had become hopelessly lost – poor guy! So with that we climbed on and on until we had reached the summit only to find we were on the wrong side of the mountain! Back down we went via another route with the intention of finding the temple on the way down instead only to arrive where we had set off from in the beginning! I think at this point it's worth mentioning that Imogen showed exceptional strength of character and toughness as she had been carrying an ongoing knee injury which had threatened her ability to be on this trip to begin with and now dug deep to push on with this fairly arduous climb and descent. Seriously impressive strength of personality! Big respect!
After admitting navigational defeat, we hopped into a couple of cabs (both booked using the Chinese Uber equivalent which seems to have really taken off there) and eventually found ourselves after a shorter climb at the Temple on the other side.
The White Crane Nest Temple is fascinating and probably deserves an article of its own given its purported to be where 'it all began', not only for Crane style Kung Fu, but also Karate. On arrival. We found it to be shut for the evening but lucky the ever resourceful Xiang Yao was able to raise the housekeeper lady who in her eighties and having just retired to bed early for the evening ever-so kindly opened up for us. Not only that she also us showed how to properly pay respects and correctly place inscence around the Temple. After photos with the giant White Crane carving (and more firecrackers!) we were struck by how strange it is that given such provenance the temple is now sadly falling into decline even to the extent that there is no longer a monk resident, which begs the question of how much longer the site may even remain extant for, and that we may have been lucky to have seen it before it becomes lost to history as with so many other things currently being swept up by the pace of development and progress.
Day 8. The 1st big performance of the trip! After the normal drill of morning training etc. We rocked up in the evening to a very special banquet hosted by Master Lin at a very swanky downtown restaurant. This was the official investiture ceremony for our fellow club members in China – Helene, Arand, Tanya, Ming Wu etc. to which around 100 people had been invited including other Dishu Quan clubs, the great and good of Fuzhou society, and more importantly to us, as far as we could work out, pretty much all the Kung Fu masters of Fuzhou representing a wide range of styles. Especially important was the attendance of Chen Yiju's eldest  son. No pressure then! After some speeches and the investiture ceremony we all payed respects to Chen Yiju, then got on with the show. The response was brilliant! Each pattern performed received a standing ovation which was fantastic from such a special audience! Helene opened with San Zhan, then Neil and Max Qi Xing Diu Di Xing, Arand and Tanya San Zhan, team UK group San Zhan, Long Hui Shi Ba Lian Zhu, Ming Wu Shuang Ban Fu, and then to top it off for good measure Neil and Zhen Quan put in a blistering 2 man fighting pattern which brought the house down. The following meal was fittingly opulent for the occasion and involved many toasts, some of which were full large glasses of red wine…but there lies another story for another time…Fantastic atmosphere!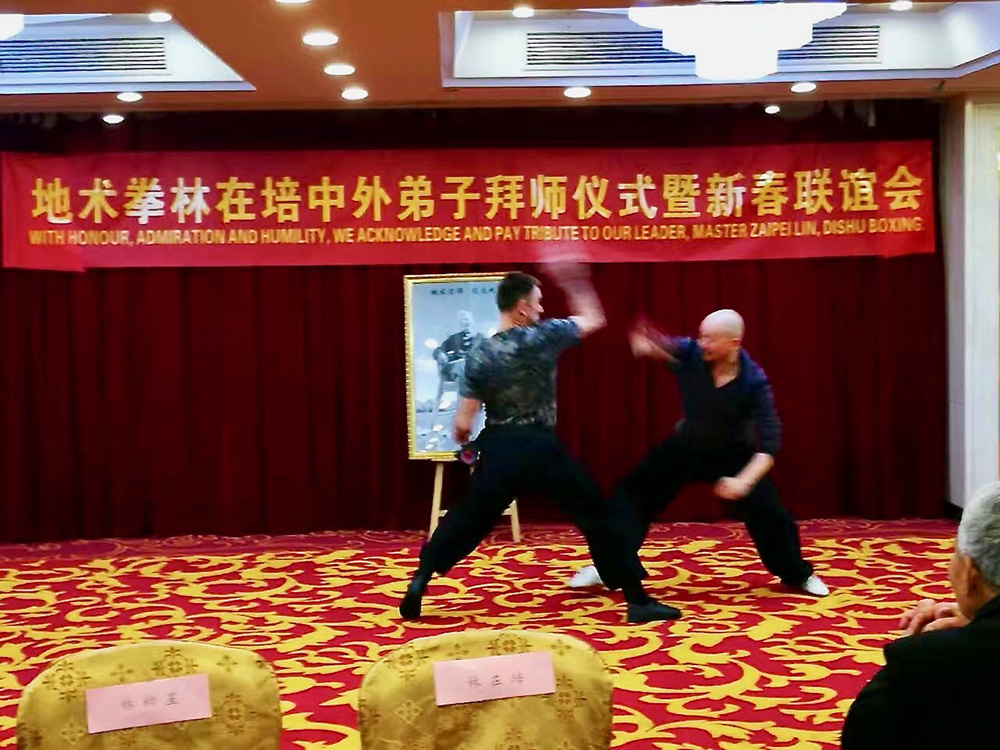 On a high and still slightly buzzing from the last evening's events we had the morning free to go and sightsee the Hot Springs Park, a lovely large park in the business district of Fuzhou. By now many people had begun to return to the city from the New Year and it was remarkable to see the city bursting back into life. Later on at our training Master Lin said that he had difficulty sleeping due to being full with pride and emotion from the previous evening. High praise indeed!
Next morning after being greeted by the now familiar sound of firecrackers and  'cock-doodle-do! Xin Nian Kui Le! ' (happy new year in Mandarin) blaring out of the TV in the elevator to breakfast we jauntily made our way to training. All bodies now fully used to the pace of training and feeling good but a little achy. In the afternoon we went back to the Wuxi temple in the now really quite warm almost summery weather to take in the atmosphere and ambience in the daylight this time. By now the city was back to its full capacity and normal hustle and bustle. Later in the evening one and all felt it was the right time to go and get some of the niggly aches and pains sorted out with massages. While everyone else decided to opt for the foot and back treatment, Da Davee and myself took the opportunity to go back to a previously tried and tested establishment from previous visits where we had the full one hour 'put you back together' acupressure  treatment – elbows really do get those knots out, even if it's a little painful at the time! The hot towels and free tea make up for it. After what at times felt like a beating  we floated back to our hotel feeling at least 10ft tall with everything right in the world!
By now it was Day 11 already! Today was an early start as it was our 2nd big show and a trip out of the city. Picked up by bus we made our way to LangQi which is an island off the coast of Fujian to the north side of the river Ming estuary. On the way it became even more apparent how much building is going on. Miles and miles of construction with cranes like a forest as far as the eye can see. As we made our onto the island via a brand new massive suspension bridge we suddenly found ourselves back in gorgeous old rural China. Our bus bumped us along towards our destination through fish farms attended by hungry cranes and storks, past cauliflower fields being harvested in the traditional way by workers in coolie hats, banana plantations, paddy fields and so on, and then finally to a hotel by a beach, which if you squint could easily have been mistaken for being like any Mediterranean holiday resort you might chose to picture in your imagination. Once in we had the surreal experience of finding ourselves sat around a table being treated to seemingly being a part of a business conference fully replete with various speakers regaling a room of around 500 attendees with various PowerPoint presentations – all in Mandarin of course, while we waited to get changed and do our show. When the speeches were over, on came the dancing girls and singers with full on rock show lighting and decibel rating closely approaching the last Motorhead concert I was at! Next up it was our turn. After a brief introduction by Master Lin, and then surprise request for Neil to make speech without warning (which he did a great job of by the way) it was showtime. 1st up Neil and Max stepped up to perform Qi Xing; now this was where the full stage lighting, smoke machine, bubble machine, and pretty much everything else the lighting guy had got to play with was put into full effect.
The thing that the lighting guy didn't realise was that Dishu Quan is ground fighting mostly, so as the full on martial music blared out tuned up to 11, and the lighting went into sensory overload Neil and Max disappeared into a plume of overdone dry ice for a few moments while the Qi Xing pattern moved through the ground sections, only for them to both in perfect time suddenly fly up into the air as if from nowhere through the smoke, strobes, and bubbles! Boom! Maximum effect! Stunned audience! And for a moment there I thought I heard in the faint distance the sound of a solitary chopstick dropping into someone's bowl just before rapturous applause ensued! …Luckily for the rest of us when we stepped up on stage to perform our group San Zhan someone must have had a word with the lighting crew and most of the smoke and bubbles had gone. More fantastic applause then lunch. A great fun show with a terrific response which I doubt anyone involved will forget in a hurry anytime soon.
After lunch which involved much toasting again with singers, dancers, and a strangely almost burlesque-style violinist to entertain us we had a look at the beach near the hotel and then made our way back to the city. Needless to say everyone fell asleep on the way back after all the morning's excitement (and probably the odd glass of red wine for toasting purposes only!).
By the time Day 12 came we were aware that the trip was drawing to its climax and that it would soon be time to return home. With that in mind training was very much about getting final details correct and letting Da Davee and Neil practice their respective weapons routines. Only in China can you walk through lunchtime rush hour past the police with a Kwan Dao, Tiger Fork, and Staffs without them even batting an eyelid. In fact, the passers by who stood and stopped to look were fantastic in their support and encouragement! Lots of smiles, cheers, whoops, and thumbs up gestures all way back to hotel! Back at home we'd probably have been shot and on national news for all the wrong reasons…
In the afternoon it was time for the much anticipated trip to the Kung Fu Shop, a now traditional excursion during China trips and always an Aladdin's cave of all things Kung Fu weapons related. This time Imogen bought a spectacular Pu Dao, Max picked up some awesome looking trainers, and Ali, Da Davee, and myself came away with some fantastic swords to play with. More smiles, cheers and thumbs ups as we bussed our way armed to the teeth back to the hotel. Later on we found an amazing old style restaurant for our evening meal. Sometimes the looks of places are so misleading, in China like everywhere else really, if the place is full of locals then it's a safe bet the food is pretty good. It was.
The Big Day, Day 13. After an early start we jumped in the now familiar bus complete with TV crew in tow to go the Southern Shaolin Temple which is near the city of Putian, about 2 hours drive southeast of Fuzhou. The drive there was spectacular, and as we passed over one of the many bridges leading out of the city over what is effectively the River Ming delta (Greater Fuzhou spans across many islands) I noticed that above flew a solitary red crested white crane which although I'm not often given to much sentimentality genuinely felt as if it were a good omen that was wishing us good luck for the day to come. The weather certainly turned out to be so at any rate and as we drove along a brand new highway which tunnels its way through the many verdant semi tropical mountains we saw plenty of temples perched high on misty mountain tops along with modern wind farms and pastoral scenes of really quite jaw dropping beauty. Once at Putian off the highway the road narrowed and then began to wind its way upwards into the mountains. After spectacular view followed spectacular view as the road wound onwards we eventually arrived at the gates of the Southern Shaolin Temple. Originally built at the foot of the Jiulian mountain in 557AD the temple now resides up high on top of the mountain after its much well known historical turmoil and various razings and rebuilds. The site was originally given to the now famous 13 Lohan monks by then Emperor Li Shimin as a reward for their good deeds for him. The current temple was reconstructed and opened in 1998 and it would be pretty safe to say is now THE spiritual home of Kung Fu, certainly Southern style. With this knowledge to ponder we made our way into the complex and prepared to get ourselves ready. With us were some other martial artists who had come from across China also to perform. Somewhat slightly nervously we warmed up while Master Lin, Neil and others were asked to make short speeches to the assembled audience.
Speeches now done, the monks came charging on stage at a blistering pace with stage lights and music and put on an absolute masterclass of a spectacle for us! To see the level of Kung Fu and acrobatic prowess close up was an incredible experience!
This was quickly followed by the thought of, in my mind at least, of 'Crumbs!, We've got to follow THAT!!!!'. Next up were the other Kung Fu artists not from our style, one man did a bench routine, there was a Kwan Dao performance, and a couple of chaps who did a three section staff versus broadsword routine during  which unfortunately for them their nerves got the better of them. Even the best make mistakes, so fair play for being there and getting up to do it. Then it was our turn.
Neil and Max started our part with their sublime Qi Xing pattern, Master Lin's China students then did their group San Zhan, then it was the rest of us team UK up for our group San Zhan, Zhen Quan Sun & Moon and now came Max's big moment to perform his Shailon perfect staff routine which he did brilliantly! Next was Neil and Zhen Quan's awesome 2 man fighting pattern followed by Da Davee's Tiger Fork with full-on blood curdling roar (if you haven't seen him do it you should, it's terrifying!), and then to end with Neil's Kwan Dao performance. – I might be a little biased but I thought Neil's Kwan Dao was way better than the other guys' Kwan Dao…Each performance was met with fantastic applause by all there including the monks who were watching on from the wings with much interest. Then to end where the Shaolin monks did another set which made for a great finale! As if that wasn't enough Master Lin and Neil were then presented with calligraphy which loosely translated says that we are formally accepted as linked to the Shaolin Temple and are established and acknowledged as such. A big deal indeed with a great atmosphere of fraternity and good will!
This was then followed by lunch which was eaten in silence as it is traditional to contemplate being in the moment while eating – not forgetting that it is after all a Buddhist Monastery. Quote of the day belonged to Liz who noted that the spring rolls at Shaolin Temple were the best she's had "since Lucky's chip shop in Rochdale"!?!  While Master Lin and Neil were invited to drink tea with the head monk the rest of us had a wander around the temple complex while having probably a little more than a few of those 'did all that just happen' moments…
Last Day, Day 14. So with heads still slightly spinning from the previous day we made our way in the morning to training. With a slightly sad feeling of knowing that time was almost up on our incredible journey we got warmed up and back into the swing of our exercises. This was when probably one of the most epic moments happened. From out of the blue Neil was presented with 7th Duan badge! An absolutely incredible achievement which carries with it the title of Grand Master. As it turns out, when Master Lin had been seemingly happy for Neil to take control of classes what had really been going on (taken together with the various performances and years of commitment) was in effect Neil's grading. This was a fitting and fantastic way to end our visit. A massive achievement!
Last but not least the evening was given over to our going away dinner which was held at our hotel and was well attended by our close friends and their family members. Of course, many, many toasts were made before the evening ended and we made the long journey home early next morning…
So, there you have it. If you want to go next year, don't hang about and hit that floor rolling now! I guarantee you you'll be glad you did!
Footnote: Just when we thought there would be no more surprises from this visit, China delivered again in the shape of a snow storm at Shanghai airport! Who'd have expected that then? There again beautiful, passionate, colourful, exciting, smiling, friendly, quiet, noisy, ancient, modern, sometimes scary, mostly peaceful, spiritual, and always entertaining China you never fail to deliver now do you?