Training trip to Fuzhou China 2016
Max Johnson's Blog
Day 1
Let me introduce you to the gang going to China this year!
My dad – Neil Johnson, Me –  Max Johnson, Mat Brooks, Imogen Thomas, Liz Billington, Dave Edwards, Ali Canals and Dave Etheridge Barnes.
Ready for China, we set off, picked up some of the crew on the way and then drove to Heathrow Airport. It took about two hours. When we get to the gate they immediately put us on the flight, there was a good range of films to choose from. I was really excited and not sure what to expect on my first trip to China!
When we arrived in Beijing, we all had to go through the security check. All of us, apart from me got checked! We then sat down waiting for our next flight to Fuzhou and started stretching. We were then told there was a further half an hour delay! Finally, the plane took off, you could see the fluffy clouds, it was awesome! After another three hours we landed in Fuzhou City. When we arrived, everyone appeared to be staring and pointing their fingers at us. I think this is probably because we are Westerners.
Xiang Yao Master Lin's son, greeted us and took us by minibus to our hotel where we sorted out our rooms for the stay. Soon after we decided to eat at a place we had spotted across the road. We ate lots of delicious dishes! like: battered prawns with chilli and nuts, spicy fish hot pot with bean shoots and a selection of vegetables.
Day 2
This morning my dad woke me up at 6:00am to get ready to go to the Spring temple (Shang Quan Si). I had my first Chinese breakfast and then we went to the local bus stop just outside our hotel, the number 88. We got on the bus and drove to the temple. When the crew arrived we had to step over stepping stones to enter the room, Master Lin was inside waiting for us. We started off by stretching and then we did a huge patten jam! My dad and I did an awesome Qi Xing Dui Di together and every one showed how hard they had trained towards the event.
Later that morning, we walked back down from the mountain to the bus stop, it was so hot, I was melting! on the way, I saw a shabby dog which started chasing me, I was so scared. Matt, my dad and I came back to the hotel room, to have a shower and to relax…before the afternoons activities….
Today, we discovered a new fruit! Zhen Quan had given it to us to try… it's called Plam.
The afternoon was spent sight seeing at one of the many temples. We made a bow to our good friend Milad, its traditional that at the temples you burn incense sticks and bow three times to the ancestors. The atmosphere was amazing with all the smells and chanting combined.
Day 3
Today we started our lesson with traditional leg lifts, followed by performing our Dishu pattens and master Lin correcting the rhythm and detail of movement. After training Xiao Yi treated us to a tea house drinking session. However, the caffeine started to make everyone giggle and laugh and my dad told me I should stop drinking the tea, as it does make you feel drunk.
My dad, Mat and I started singing the quakamolie song in ten different ways. The song seems to have got in to our heads and we can't stop singing it. I also tried coconut Wotsits! Eughhh!
Finally we finished with an evening training session at floor eleven. This has the biggest space and a plush carpet.
Day 4
At breakfast today we decided that when the two Dave's are together they're called Daaaavve, and when separated they are just Dave!
Today the bus was rammed with people, it was my first time at the room where they usually train, it was in the shopping centre, on a roof top. We started off with a few rolls and then we did an arm exercise that works on two person attack and defence movements. We also learnt another movement which is called: Mai Hua Xing, which means lotus flower, because you turn five times in a circle and a lotus flower has five petals.
After training we went to eat at a seafood restaurant it was really nice. We had; peppered prawns, crab, a variety of vegetables and squid (well… we thought we had ordered squid but we found out at the end it was toad!) We then got a bus and went back to the hotel.
That evening was spent eating more food and further refined practice in the hallway…
Day 5
This morning I was feeling very sleepy from all the training but once I got in the shower I woke up. When we arrived at the shopping centre, the lift was taking for ever! So my dad and I ran up the 12 flights of stairs. it became a thing every day! When we got into the training room we we started off by doing the usual stretches and then going outside and doing all the leg lifts. The final part of the warm up was a bit of rolling inside… luckily Ali didn't bash her head on the wall this time like at the last training session.
Today we were focusing on doing a movement called magical dog dancing on the stars, we do this movement with a partner. Zhen Quan (Master Lin's oldest son) and I did a lot of Dishu training drills and binding today. Everyone had a fun time and another four hours flew by.
The 122 bus takes us home to our hotel. The gang steps off the bus and we saw a a Chinese bun restaurant, it was my first time eating a steamy bun… it was super delicious.
Another six hours training was racked up today and we then found out that we had three big performances to do during our stay.
Day 6
In training today we leant how to refine our movements and a binding technique, it's called bending the chickens wing. Master Lin told me to root to the ground to make the motion more structured.
After training Xiang Yao and his brother Zhen Quan took us to a restaurant where they visit every day. When we had finished our delicious meal we caught a bus to the Kung fu shop…. the very cool Kung fu shop! It was awesome, it had everything a Kung fu artist would want, my dad brought a horse cutter and a staff. Mat got a super heavy Sword with lots of cranes on it and Imogen also brought a good quality staff.
We then went back on the bus to the super market, and brought loads of cake because we all decided on a huge cake feast I felt quite ill after!
Day 7
In the lesson today we did more training towards our performance on Saturday.
The afternoon was my favourite afternoon so far! We went to the Xi Chan Si a massive temple. There were loads of colourful fish by the bridge which we fed. They were fighting over the crackers! We also went into this huge Buddhist temple – it was was indescribable when you're up there. The vast view really showed the differences between old China and new China, it was one of the best moments of my life!
Tonight we decided to take a rest, to recharge everyones batteries!
Day 8   
Today in training the Fuzhou newspaper crew came to the lesson to take pictures of us and interview my dad. We have been continuing to learn the inner and outer gate system of Dishu Quan. This is one of the main linking systems of the upper, middle and ground fighting (San Pan). Master Lin announced that he was going to start teaching my dad the sun and moon pattern. This was a big deal as the Sun and Moon weapon was taught to Master Lin 40 years ago by Grand Master Chen YiJiu. He taught his son Zhen Quan Lin 20 years ago and now is passing them on to my dad!
At the end of the lesson, Zhen Quan showed us some new ways of how to align the spine. Zhen Quan is a doctor of Chinese medicine and each trip we learn more ways to keep healthy or help others we know, It was amazing!
The big mid training meal was here so tonight we went to a huge restaurant with most of our Kung fu training brothers and sisters. The massive table could fit twenty four people around it, made of marble and even had a golf course in the middle and the biggest lazy Susan ever! The food and atmosphere was amazing……. more sleep needed, big day tomorrow.
Day 9
Today we went back to the ……… Shuang Quan temple. We had been asked to do a relaxed lesson for the woman's group. They are all business women and it's a chance for them to all meet and make connections. We did a few warm up exercises to get the blood flowing and then showed them some Dishu movements. When we finished, we went to get some lunch from the monastery, the food is always vegetarian, grown at the temple and tastes amazing.
After lunch, we got a lift in our Kungfu brothers cars to go to third biggest temple in the Fujian province. When we arrived at the temple, it was so amazing to see the curved wind swept roof tops. The head monk of Fujian provInce was still taking a rest so we were treated to a traditional tea drinking session where we could relax. It was nice because we all got to know each other more.
After this, we then headed off to the head monks quarters. The craftsmanship of the wood inside was out of this world. It was awesome because I got blessed by the head monk and he gave me a gold silky scarf that had his own handwriting on. After this we did a Dishu Quan performance outside on the stone floor. The show went amazing with all of us performing the San Zhan form together, followed by Dad and I doing our Qi Xing form. Zhen Quan performed the Sun & Moon and Matt did the Lian Quan pattern. Finally, my Dad did the iron leg skill and then with Zhen Quan performed the two man Dishu binding form. The Monk loved the show and said to Master Lin we showed real Kungfu skills which is very rare in todays performances.
Day 10
The rest day!
Today was our rest day so we all went to the hot springs which was out in a rural area of Fuzhou. The bamboo forests were as tall as a house with big green palm leaves hanging off the side of them, there were huge long rivers that wrapped around the mountains like a boa constrictor. It was really nice to be in the country rather than a high polluted city that smells.
Once inside, I felt like I was in heaven. The water was heated by a volcanic spring and had loads of different varieties of jet massages and jacuzzi's. It was so nice to relax in the natural spring water. There was also a freezing waterfall and we kept on going from the warm water to the waterfall, apparently it's good for you.
Day 11
Today was the last day before everyone goes back to school or work in China.
This morning we went to the original dog boxing village. We all went inside the government cultural heritage dog boxing training centre where the Chen Yijiu name became famous. Master Lin inherited the style of dog boxing in this village where there was a traditional house courtyard that they used to train in for many years, but now sadly its been replaced with a new dog boxing hall. Master Chen Yiju statue is at the back of the hall.
After paying our respects to Grand Master and the highest generation of Dishu Brothers and sisters, we did a performance. It went really well and everyone enjoyed watching us doing our pattens. We then took pictures of all of us together. The mayor of the village whom my dad has met many times now, took us to the local government building and presented us all with a local gift – cork fine art. Known in the village for its craftsmanship.The detail is amazing and was presented by the craftsman himself, it must have taken him so long to make them all.
In the afternoon we went to the lantern festival with Master Lin's family, there were loads of different Chinese characters and animals lit up it was so cool! We bought fire crackers and blew them up by the side of the beach, they were so loud. Master Lin at the age of 73 nearly out run everyone was we tried to catch a bus at the end of the night!
Day 12
Today we were more technical in our binding movements and we learnt how to lock on an arm bar from upper-section hooking. It works really well because if anybody tries to counter the skill you can just from that position and you are still in control of the fight. Towards the end of the class we also did an arm exercise to condition the forearms.
The evening was spent in a nice restaurant that one of the Kung fu sisters treated us to.
Day 13
In the lesson today, we did the usual leg lifts to stretch the tendons and open out the muscles and joints. We did a group San Zhan to work on the timing towards the big show on Friday. I did a Shuang Bian Fu and Zhen Quan told me to keep my knee as close to the ground but not to touch the floor, and to keep my fingers pointing to the sky, this was called kneeling on the tiger.
The reporters came to the lesson again today and they interviewed Master Lin and the rest of us. Xiang Yao collected the local newspaper from our previous interview, which we were in.
Tonight was amazing, we went to a village which had boxes and boxes of fireworks they were taller than me! The people in the village treated us to another amazing meal. in one dish a lobster came out with LED's coming out of his head. There were some dishes however which were not so good for the endangered species like shark fin soup.
After dinner, the fireworks started. They were mental, we just took a box of fire crackers and started lighting them and throwing them into the middle of the street. It was so loud and busy, I was speechless! The puppet gods walked around the village roads to scare away the evil spirits and the loud noises were also meant to scare away bad luck.
Day 14
Today we had to pack to get ready for our flight home. I felt quite sad because I had had such an amazing trip and time had gone past so quickly.
It was a busy day! In the morning we went to a school and we did a performance. All the pupils loved it, however it was hard because the stage floor was wet marble and slippy.. so we had to be careful to not slip up. After the show all the students came up on the stage to take pictures with me because I was a young blonde child as everyone in China mostly had black hair! It was really mad…. I felt like a celebrity at the oscar awards.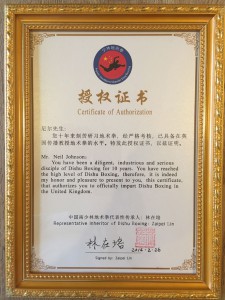 We then rushed back to the hotel to get our smart clothes in our bags and then headed straight off out to our last big meal. When we arrived at the restaurant, we had to put up a big banner and a few more decorations. Soon after, everyone arrived and we did a show. Some of the top masters watched me do my pattern and I felt very proud when I had finished. My dad received an award that recognised that he could teach internationally around the world. Much beer and coconut juice was drunk!!!
4am and we were off on our way home….
Until next year
Max Johnson