This year is my 20th trip to China training Kungfu and performing…
This year we were supposed to be seven strong but sadly it ended with five of us being able to go – Myself Neil Johnson, Matthew Brooks, Imogen Thomas, Ali Canals and on his first trip Samuel Orourke.
The training will be much like each of the previous years – four hours in the morning and an hour or two each evening to make sure we absorb any new teachings. When you're travelling halfway around the world it makes you want to make the most of your training sessions.
In the modern world of videos and internet knowledge people lose the value of the one to one teaching from an instructor. Videos are very good to remind you if you don't practice a form enough or the fighting movement. However It's the everyday classes where you refine the muscle memory, strengthen the tendons to do the whipping movements, the twitch only comes from practice.
The different people you meet in training is where you learn what works on what type of body or mind set of different personalities. 
I travel halfway around the world to learn from Master Lin because he is a man I respect. It is not only because of his martial skills and wealth of knowledge of the arts after 69 years practice but also because of how he holds himself in society, his family, his way of life in his eating and drinking choices and his passion to pass his masters art on. In addition to this, his smile is also infectious.
As a martial artist I love to further my knowledge in the arts and better myself. I enjoy being a student again pushing myself both mentally and physically, it makes me feel alive and I like to test myself against the best in the world. This is not just in physical fighting but seeing how deep your own knowledge can grow? After all you can't fight for ever…. The biggest fight is our own health. The Chinese Duan grading system at a higher level assesses your contribution to the arts and what you can pass on to the next generation. The biggest fail is to loose the art! Sadly, in the modern world it is becoming harder and harder to get students to truly immerse themselves into the art. In Grand Master Chen YiJiu's old house students used to nail their worn out shoes to the wall to show their hard work in training.
One of the most amazing things I have seen since travelling to the Fujian district of south east China for the last 20 years is the notable enormous growth around the people's way of life. 
I have always visited The Fujian district of South East China.
Originally it was Young Chun and Yong Tai districts. Nowadays it is the slightly less romantic city of Fuzhou.
In my early days there really were no cars to be seen…only lorries, buses, motorbikes and pedal bikes. Roads were mostly non existent and in my own view there were no real laws to abide by in this area. Every trip felt  like your life was in the drivers hands! Having said this, the Chinese people have an amazing way of working together in harmony even if it looks like chaos.
There were still many of the old single storey high buildings to be seen – many with the traditional central courtyards where a few families have a room around the outside sharing the communal central space. Our original home of Dishu Quan was where Grand Master Chen YiJiu lived and Master Lin used to travel there daily to train. Dogs would bark, the roads were full of holes and there were no lights. Life was super hard in many ways but less work stress than today.
The city is set in three mountain ranges and the coast leads out from the three big main rivers.
There is not a beach to speak of.. it is more like small islands and mud flatlands leading to open water.
The city still has two prominent pagodas; one black and one white. They were used when the city was mostly forest. The pagodas acted as landmarks helping people to find their way around the area.
Today the city is a growing metropolis of high rise skyscrapers all trying to out shine each other.
I have seen more super cars in Fuzhou than at home.
This years hotel is modern but just as crazy. As we ate our first breakfast, (which was amazing) on  the top floor of the hotel the room lead out into an open area with fake trees leading into rocks, shared with birds, ferrets, fish, turtles and Guinea pigs! Fuzhou life is looking good.
Even the old ways of respect, etiquette, myths and tales are disappearing in the East as well as the West. I personally like some of the old ways! Here are a few I have learnt over my time in China….
Originally the students would never walk in front of their Master. Remember the translation of Shifu is to be skilled at a subject after much work. So this is not just Kungfu related.
At a meal the students would stand and wait for the Master to sit first
When eating a meal the students would never start, without the master eating the first mouthful.
If toasting a drink at the table, the lower position person would hold their glass lower then the higher ranked or skilled person. This can be quite funny when both are being respectful and keep lowering the glasses to the ground.
In Fuzhou, being a fishing area, it was seen as unlucky to flip the fish over to get to the meat on the other side as it represented a boat turning over and sinking.

 
A younger man should always be clean shaved or his elders would feel even older.
Money should always be given with both hands… As the person respects how hard they had to work to earn it.
Bowing or salutes were also seen as a sign of respect to each other not dominance. Even to respect the training ground. In war times it showed if you supported the Ming or Qing.
Crossing chopsticks after a meal is also seen as unlucky due to the character signifying kill or death.
Many people grew their small finger nail long as a sign of being wealthy but doing manual work because they wanted to, not because they had to.
In Fuzhou when tea is being poured the drinker will tap the first two fingers on the table. This represents the undercover soldiers bowing to the the Emperor when he travelled amongst the local people in disguise to see how they were living.
Sadly, many of these ways have now been long lost by the new generations in China, including the respectful ways in the west like opening doors and pulling chairs out for women.
Many people now expect everything because they have paid for a lesson but the hard work has to also be done by the person to truly gain the skill and knowledge. Kungfu can not be rushed and should be a life style. Practice is free but time is precious in today's society.
Back to this trip! Day1
Today was the first lesson and as ever there was lots of sweat, forms performed, binding and pain! Pressure points being the order of the day. 
Master Lin was happy.
In my early days of training Kungfu, we were also taught the Tenets of martial arts.
Respect, Humility, Compassion, Integrity, Self control and Perseverance.
I have felt the importance of this more and more over the years. The Tenets give you a sense of pride and make you a person of worth in society. Just like religion the virtual can be good when used correctly for a way of life. The old ways of learning kungfu meant you had to show yourself as a person of good character to learn the dangerous skills of fighting. In the wrong hands it could be very bad. We have all seen the old Kungfu movies when someone turns bad!
I believe that Kungfu has personally tempered my anger, focused my energy in a good way and given me the skill of learning the small details to refine and polish across many aspects of my life. Amazing how real fighting is the last thing on my mind ever today. Feeling happy with yourself, confident in your body and strong in the mind. All help lead to the ultimate goal of hopefully never needing to fight.
Day 2
 Training starts at 8:30am every day starts with a 40 minute walk to the hall.
Today we worked on the binding movement called "The Cross Lock." It was great fun as we got to catch up and practice with our long term Chinese friends.
More work on distracting the opponent before moving to ground Level was also completed. The best moment of the day by far was when Zhen Quan Lin performed his 24 Step Taichi form and we performed our Shuang Yang White Crane form to him. My ultimate long term goal would be to pass the form back to him to reintroduce the style back to China!
Day 3
Today was a Sunday so lots of the local Dog Boxers were free to train, kids and adults.
It's very strange that our club has become a massive focus each year to inspire the locals to also start training or push the Chinese existing members to keep progressing their skills.
Like the West, many people now have to work or study harder than ever, giving them no spare time to train regularly. The older generations would turn in their graves seeing the effort put into the training today. But it is said also that ever since Television was invented martial arts has started to decline.
To help promote Dishu Quan locally, the newspaper reporters and TV crews came to interview us and are recording videos later in the week for the Fujian TV program.
Tonight we have Master Lin coming over to chat to us about the History section of the Dishu Book.
We have been working on the book since last year and want to make sure the history is as accurate as we can get from Master Lin as he has spent most of his life with Chen YiJiu.
Day 4
Today was supposed to be a quiet day with no further visitors but China being how it is this wasn't to be. We had one of Master Lin's old friends return to Dishu training after 25 years… so it was action as usual. We began warming up and then Imogen and Ali started learning their new patterns. Sam was refining his San Zhan movements and Mat and myself worked on our binding skills. Master Lin comes to life as soon as the action gets going. He likes it when people start challenging a fighting situation and was soon engaged helping us do more and more Ground skills. Knowing how to change, adjust, coil, control, roll out of and blend from one lock or binding movement to another is paramount to using any fighting skills. 
After this we headed out for dinner after going to visit a new temple. During this time we came across a local Chinese Min Opera. I haven't seen one in Fuzhou for around 18 years and it was also in the local Fuzhou Hua dialect. It was truly amazing to see – all the singing and dancing was live. It was so amazing to see all the older locals enjoying the show, just like they probably did  before all the tv and phones came into existence.The control to project singing and act sorrow was quite something to see. What an experience to end the night!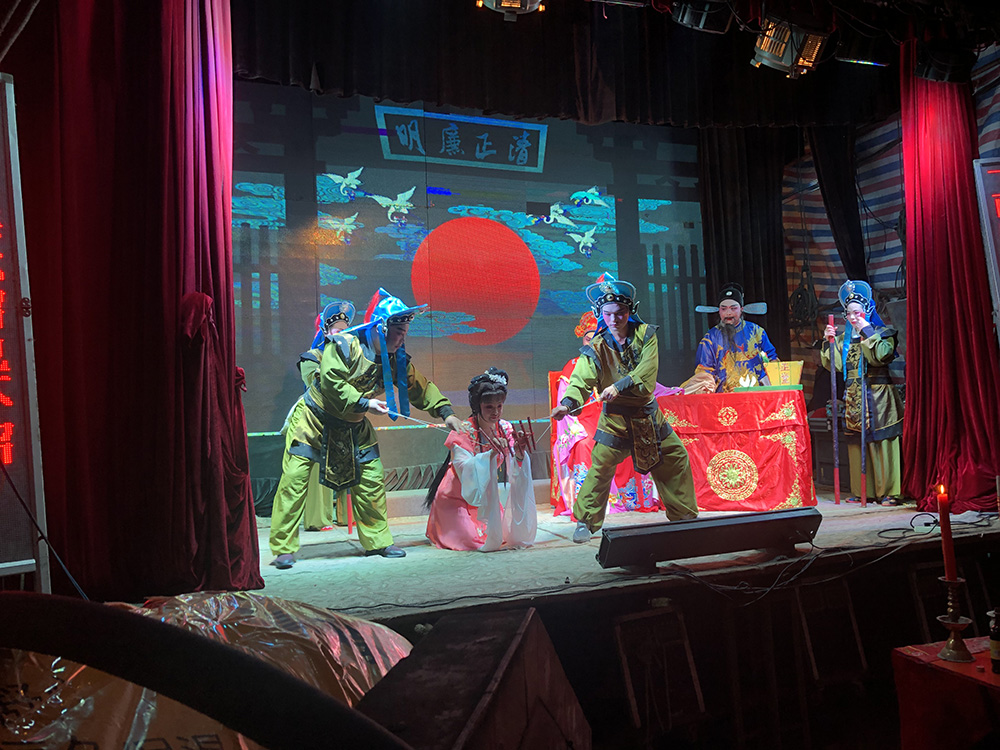 Day 5
8:30am Today we are visiting the Spring temple. We have met the head monk there several times and also trained Dishu Quan in the grounds. The temple has exploded in size and we were given a tour of the grounds before being taken up to the highest point to an amazing tea and meditation room. The view and craftsmanship is amazing. I was so pleased to have managed to hold a conversation with the head monk in Chinese and actually understand one another! 
Also present was the calligrapher who had painted many of the art works around  the room.
As the temples get bigger and bigger, there's definitely more and more opulence put in…I wonder when it will stop,  but the people are more supportive than ever towards Buddhism.
In the new main hall there are three statues each costing £800,000 so I can't imagine the total cost of works going on today. But the work done is truly something to behold.
Master Lin treated us to a very posh vegetarian feast at the 3 Lanes 7 Ally's area.
Let's just say China never disappoints. 3pm training today and we have just been informed that we are performing at the Fuqing Shaolin temple on Friday!
This is quite something as it will mean not only have I been to all three Southern Shaolin temples but also performed at two of the three with the monks. Quite a martial achievement If I may say so myself.
Day 6
Another day, another floor… more rolling, more binding and more forms! You start to get the idea over the years by now! However just when we thought it was going to be more of a relaxed day… Some more reporters came to interview us and the free afternoon has turned into a photo shoot at the Golden Chicken park showing some of the binding movements and San Zhan. The coolest part was the TV crew filming the form with a drone that panned out showing the Jasmin flower building and area we were performing on.
Understandably the Chinese are seriously worried about the demise of Chinese martial arts and love to hear of the spread of a local style like Dishu Quan in the UK and Denmark.
The coverage also helps raise the profile in Fuzhou to the local people.
Day 7
So food. Everyone ask's me what's it like eating all that weird stuff over the years and yes there has been some interesting food:  Baby battered mice, snake, corpse eating eels, cow's stomach, hornets and larvae, flowers, rock algae, frogs and sea cucumbers! However, as westerners the worst food by far was dog!  I have had it twice although I've never ordered it….it just appeared on the table…. The good news is that nowadays we speak enough good Chinese to order what we want and the food is always amazing. Unfortunately, like the West fast food is now everywhere and the Chinese diets are becoming worse, especially with the younger generations who are all buying into the processed food chains.
Today yet another news reporter came after seeing yesterday's report on our training. It's almost becoming the norms. On the way home, Mat demonstrated just how good his Chinese has become after we managed to order a banner for Master Lin to say we will do our best to spread the art of Dishu Quan. Getting the translation from English to Chinese characters is one step further to becoming ever more fluent in the language. Over the years I have realised just how important this is to understand Chinese and get the full story of the arts and the details directly as translators often miss out the details.
This afternoon we are visiting Zhen Quan's clinic to further our knowledge of Chinese medicine and treatments.
It's my Birthday today so we are taking everyone out for dinner tonight.
What a fun night with so many of our friends all around one table, good food and laughter what more can you want.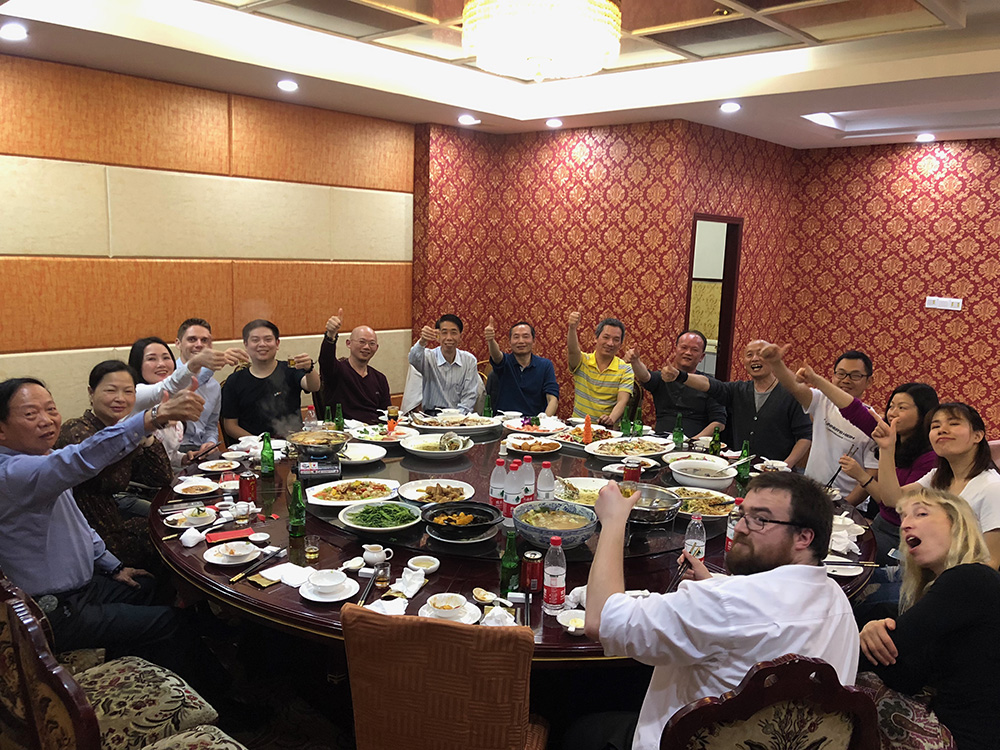 Day 8
Southern Fuqing Shaolin temple show today!
Where do I start…. the temple is situated in the middle of nine mountains surrounded by a forest of bamboo and local wild tea farmer's trees. We were met by the head monk Shi GuangZhi, the head Shaolin coach and the other performers of the demonstration group. One man who stood out immediately was a 76 year old master of Lion boxing and Luohan Quan. He was dressed in a blue velvet uniform belt and held an antique long pipe. The others were Shaking Crane and the Shaolin monks from the temple or local villages.
With the greetings over we were lead around the temple grounds and told of the amazing history of the temple. The first monk to build the foundation pagoda was sent from the Henan Northern Shaolin Temple.
In 1992 stone inscriptions were found as evidence to prove that the temple is most likely to be the first of the three Southern Shaolin temples founded in 627ce. The ruins of the old temple can be seen today and it is only the fact that the temple is the last of the three to be fully renovated that they did not know of its great importance and archaeological history. This is not to say however that each temple has not had a massive part to play in the history of Shaolin Kungfu over the years.
(A full article will be released on this subject at a later date)
Finally we reach the main show hall. Like the other two temples I have been to, the stage is set to show the pride of Shaolin martial skills. A quick change and the microphone is on and the head coach starts the show off. The Shaolin's know how to put on a show and before you can blink the sticks are flying and cracking…. We are up next with our groups performance of Dishu San Zhan mixing the English and Chinese group our shouts matching the monks performance. The amazing Luohan man performs a pipe routine with an incredible soft power that can only be obtained over many years. The girls, Imogen Thomas and Ali Canals do the Seven Stars falling to the ground routine and do the best they have done all trip. The show flies past with the Shaking Crane pattern whipping, Mat's Dishu Quan linking fist and the Shaolin broad sword form competed super smoothly. One of the monks then did a very good acrobatic straight sword form to follow. Two Shaolin kids flipped everywhere beyond belief, making it look effortless. Myself Neil Johnson, Zhan Quan Lin and Mat Brooks then performed a synchronised Sun and Moon weapon form to the crowds delight.
The finale was the Shaolin monks Iron body skill of breaking wooden sticks over the body and head.
Not be out done, I Neil Johnson, performed the Iron leg skill bending a thick mild steel bar with the shin. The local head governor we met on the way into the temple turned out to have known Grand Master Chan YiJiu and so was super excited to see that the Shaolin Iron leg skill had not been lost.
My final delight of the show was when the other Iron skill monk was unable to bend the bar back, even with his full body weight on the bar.
Many photos were then taken of all the groups together before heading into the Head Monks room for a big group meeting. He told us the history in detail and gave us all a printed sheet of the temples history as a reminder. The final part of the meeting was a truly proud part for us all as Southern style martial artists. My Master Lin ZaiPei was given a rare calligraphy from the head monk.
We were given a Shaolin pot made from the clay of the original temple earth which had been hand painted and fired on the temple grounds. A very rare gift to be taken back to England for our Wushu Guan training hall.
If that didn't blow our minds we then walked up to the top of one of the local mountains for a view… That was a picture of just how you think China would be in your imagination! Endless mountain ranges arising from the mist full of wonder. The mountain was topped with a Taoist temple making the ascent even more special.
Zzzzzzzzzzzzz
Day 9
The very cool Kungfu shop!
Training done and as ever each year we visit our friend Pan's shop to stock up on weapons and martial training stuff. This year massive cannon balls seemed to be the order of the day. They can be used for finger strengthening, arm strength and coiling skills.
Another big meal out tonight! Dinners in China are like buying rounds of drinks at home. You buy a meal and then you get invited to everyone else's meal.
In the old days if Master Chen YiJiu taught a new binding movement rather than paying for the class as thanks for learning the movement he and his family were treated to two full table meals.
The truth is people have always paid for training in one way or another be it physical help, social position or money.
The final part on today's training is …. you never know who is in the room? Today a very friendly man called Peter arrived in class and it's show time as ever. After our pleasantries we all shake hands and off he goes. It turned out he was the head of the Canadian Wushu committee and said we would share our performances and details online….
Day 10
Time is flying past and it's that moment when you say to yourself we have ages to learn…but… time passes too quickly. Just four more days to soak up as much information as we can. 
So many students have their Master with them every day but still can't appreciate the very knowledge they have in front of their eyes. My master is half way around the world so having a good foundation in the arts helps, plus a very good work training ethos. It's then all about working hard on the details, timing and practice.
One of the reasons I love Kungfu is it's about the work you put in not the money! Practice is free.
Passion is something that grows from the desire to want to be good at something.
It's a Sunday so lots of kids and adults were in class today and as a result we started on the basic Wubu Quan pattern and then worked on the martial moves for each to bring the pattern to life. A form without understanding is worthless and lacks motivation to practice.
The basics lead to the more advanced binding and counters to each defence.
Tonight is tourist time and it's off to the 3 Lanes, 7 Ali's area. It's an old style town with lots of shops and places to drink or eat. The Chinese love hanging out in this area, particularly strolling around in the evening as the whole place is set alive with lanterns glowing everywhere.
Day 11
We are off to pay our respects to Grand Master Chen YiJiu today at the village of Dog boxing Xiyuancun.
Another thing I really like about the Chinese culture is the fact that they still respect the elders. If you are on a bus, younger people will get up and offer their seat to them. People regularly go to the temples to pay respects to their ancestors.They even burn fake money to help them in the after life! But most of all it's a nice way to remember where they have come from, the hardships of the past, the joy they had together and the opportunities they themselves have because of the actions taken.
At 9am we meet up with all the Kungfu gang and make our way to the training hall.
Master Lin's face is beaming today as all his Kungfu brothers from the same generation that trained in the old days arrive including Chen Zhendao. He is Chen YiJui's oldest son and at 93 years is the oldest in the linage alive today. He is also the person who introduced Master Lin to Chen YiJiu.
Another proud moment was to be in the photos with all the elders of the Dog boxing village.
We then all headed to the Town hall to have tea with the mayor of the village Wang Chengliang.
Training started at 3pm today with more refinement and practice of our fighting skills. 
We are then off for a small dinner with Huang ZhenHe – the guy who owns the supermarket below the training hall. He supports the club and provides a hall for Master Lin and the students. Just when you think it can't get anymore crazy we are treated to the most amazing opulent dinner I have ever had! Raw fish (sushi), massive prawns, Spider crab, deep sea fish (more expensive than I dare say!) abalone dishes and razor clams…. to name but a few all washed down with the finest red wine, followed by ice cream and coffee.
What an amazing night and a small window into the rich life of the top business people in China.
The restaurant owner did not own 30 restaurants she owned 30 chains of restaurants!
TV show tomorrow!
Day 12
Sam is our newest student coming to China this year for the first time.To be honest he has has had it hard as four of us are instructors. People sometimes under estimate just what it takes to become good at Kungfu and have a romantic ideas of what they think it is to become good at any martial art. It is the hours of practice in and out of class. It is training through pain and injuries but learning when you need rest more than practice. It's repeatedly doing the same thing over and over again. Sam, to be fair, has pushed himself to the limit and has performed beyond both his mental and physical limits most days and is far better for the experience. His Kungfu has improved massively so well done to him for persevering. The work is always worth it and only time can show results with good instruction and friendship.
The TV film crew decide to film at the Spring Temple as it's a beautiful setting and we start by having tea in the amazing room of fine historical artefacts. I made a comment on how beautiful one of the tea cups was and then before you know it the main man who is pouring the tea brings out several cups. One of the cups after passing it around casually we found out it was from the Song Dynasty worth £1,250,000! It was amazing to think they were approximately 800 years old. Hands now shaking and holding it for dear life we take more care than ever. One of the cups has a small handle unusual for a Chinese cup, it was for stringing to a horse for travel. 
The other bigger cup was wider because like the Japanese tea of today they used to grind the tea to a powder.
He then brings out some Han Dynasty stone artefacts. These were found on a field where an old temple had been burnt. They were burial objects for the after life and were 2000 years old.. totally amazing to hold and think that someone that long ago had also held the stones. 
The TV crew loved that we were interested in the culture and then moved on to Kungfu talk – interviews and some performances. We then found out that they were returning tomorrow which was quite annoying as we would rather just train with it being the last day of our training before the long travel home.
Day 13
The last training session and as it's been held as SAN HAO – meaning the date 3rd as it's the last big meal. After training hard and being sensible it billed as a drinking night!…
The day then became far more than we ever expected – As China is a place of rising economic wealth the politics are always never far behind. People all have their positions in the underlying order, some are pushing upwards with aspirations of more power, some are trying to avoid it but just can't.
Many are pushed down but as a whole China is doing very well. Even when a photo is taken the second most important person should be to the right of the centred main person. Not to do so is to lose face. Losing face is China is a massive deal.
We are more in the focus than ever this year with two TV programmes – one being with the main Chinese news station. 18 newspaper publications and also reaching the Canadian Wushu committee leader on one of the days.
This all sounds grand but in truth it all takes time away from what we go to do – train! 
Each time one of them comes to see us we perform and chat to the relevant people. Performance helps you shine with practice but the best training is always when no one is around. Just like the old days for Master Lin with Chen YiJiu in his bedroom. 
We ended up losing two whole days on the TV programme but on a positive note we hope to inspire more new people to start training in the future.
Kungfu is where the Master is not in a fancy hall although a good ground to call home does help!
For us on the trip we know this more than ever.
The last meal was truly amazing – Three large tables with very good, sincere and close friends. 
Imogen and Ali were presented with a set of Sun and Moon weapons to start learning over the coming year. Tears of joy, delicious food, too much toasting to comprehend and lots of laughter.
Day 14
Home time…. 28 hours of travel from door to door Zzzzzzz
Written by Neil Johnson.