Trip to China, April 2013
Day one
After the disappointing news of Master ZaiPei Lin and his two sons not getting their visas to enter England, we arranged to visit them in Fuzhou this year.
Due to the short notice and the cost of China spiraling every year due to the economy, we were four strong this year and named by Mark as The Awesome Four! Head Instructor Neil Johnson, Mat Brooks and Liz Billington – black sashes and assistant instructors and senior student, Mark Heeler. After 16 hours of travel, we finally arrived and settled into our second home, Fuzhou City! We are very lucky that due to the number of visits we have made over the years, we have gained some very good friends. Mark is the only one on his first trip to China and so is loving the mad town that we are in, which is so far removed from the magical photos of China in tourism brochures.
Fuzhou is a massive industrial city like London but without all the fancy buildings. Having said that, the fun is you never know what is around the corner to surprise you. Although we are 7 hours ahead and feeling tired, there is still time for food, some training and a foot massage that actually means they give most of your body a good working over and very wrongly chisel a lot of skin off your feet! We finally got some much needed sleep to prepare us for the first lesson tomorrow.
Day Two
First class back is in the marble room of death and we start as normal with the opening ceremony to be welcomed back officially and show our progression over the years training. This year we are entering the Fuzhou International Wushu competition so no pressure!
We quickly find out we are to learn a new form, Four Gates and have more than we thought was needed to do in the competition. We are entering a team of eight people half Chinese and half English doing a group form, individual open hand forms a two person sparring routine and a weapons division….. so lots to practice and not much time…… The afternoon was spent going to the very cool kungfu shop where we did what I had always dreaded, purchasing a pair of silky pajamas for our competition uniform.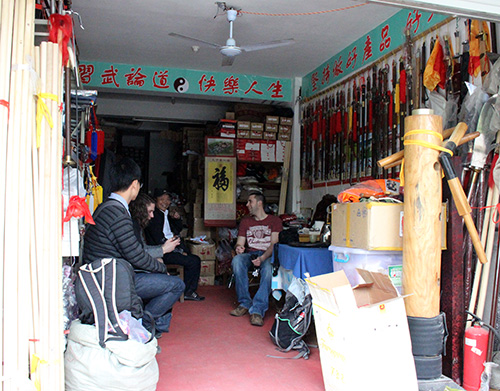 This is fine as Chinese people look cool in them but as westerners I have my reservations. So kitted up its back to eat and recharge ready for the second session training of the day.
Day Three
Today we wake up with the training legs already feeling tight. As with all trips, we start the day looking like John Wayne walking, somewhere in the middle we look super fit and after training return to the John Wayne walk!
The lesson was fun today and as ever Master Lin did not disappoint. Within moments we were disarming an opponent with a staff and locking them up with their own weapon, yet again an upright movement showing how much Dishu Quan is so much more then ground fighting. Lots of timing was done to get every one performing the DiSHu San Zhan together at exactly the same time for the competition. The two man routine was worked on and refined before we showed Master Lin our weapons forms of which he had never seen before. He was pleased with what he saw and went on to give us some pointers for competition poise.
Lesson over we tried to walk around to find some good food places but realised the legs were refusing to work so settled very quickly on the closest place available.After this we returned to the hotel for the amazing Fuzhou power shower…… so powerful it fixes all aches or as Mat said "Nothing hurts as long as I don't move" Mark who speaks no Chinese went out to get a massage and ended up getting one from a blind person, we can only imagine the fun he had trying to explain what he wanted!
As we headed towards the afternoon the sun at last was shining. New swords had been bought yesterday so we got to work on pimping them up ready for the performance as the workmanship is never great, even if the blades are quite good. In all, we had to glue and tighten up the handles to improve the response and balance of the swords. A tasty meal of Fuzhou flat noodles was quickly followed by the normal evening training session. 14 hours racked up so far!
Day Four
Today is the weekend so all the dog boxers entering the competition are their from our club .Their is nothing like lots of people doing Dishu San Zhan, the shouts just resonate through the grounds. More sweat on the marble floor and the new pattern Four Doors started today….
Brains are frying but it was a good lesson. Weapons were also practiced, fortunately with more room to avoid cutting up our hotel room again. Master Lin was impressed with head instructor Neil's iron leg skill of bending a thick mild steel bar with the shin. This skill is not to be found in so many modern martial clubs these days.
In the afternoon we head off to the hot springs park to eat and take in the views. The funny thing is, we watch the Chinese and they like seeing us, so everyone's happy.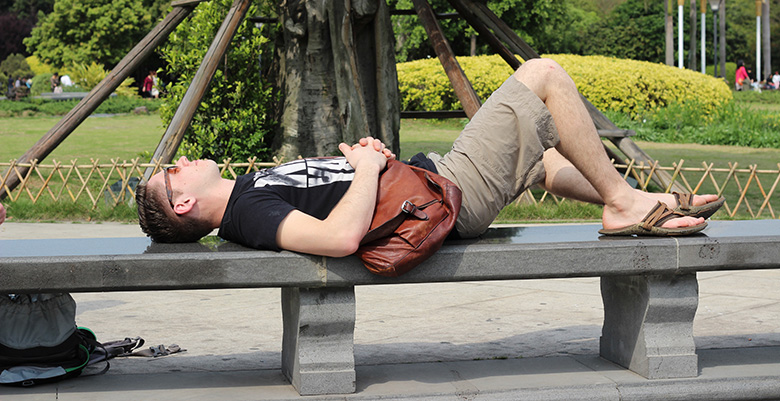 It was truly over the top! Salad, Garlic bread, Peppered steak, egg, fries and pasta all downed with a glass of beer. Mark and Mat head back to the blind massage place, Mat also gave it the thumbs up. Two more hours training at the hotel then Zzzzzzzzzz
Day Five
Sunday so guess what! we ate, trained, sweated, trained some more, ate some more, trained some more….. I think you're getting the idea of the intensity of this training trip in case anyone wants to come next year!
The afternoon was spent going to some of our friends houses and drinking tea, visiting Xianyao (Master Lin's sons) university as the campus has massive grounds and every type of tree in China is planted out in the shape of the Chinese map! Another evening training session followed so 26 hours training now under the belt!
Day Six
This morning we were at the normal hall that Master Lin and the students use, situated on top of a shopping mall. I like this place as the room is open with good air flow and mirrors to help check your movements. We do get various people coming by looking at the strange westerners training and this is always bad, as then we stop doing the good binding stuff and just perform patterns. As soon as they go the lesson resumes.
We continue with the intricacies of the four small doors pattern and learn lots of interesting new bits of history about Grand Master Chen YiJiu, the shaolin Monks and the Nuns but ………sorry you have to be in class to find that information out!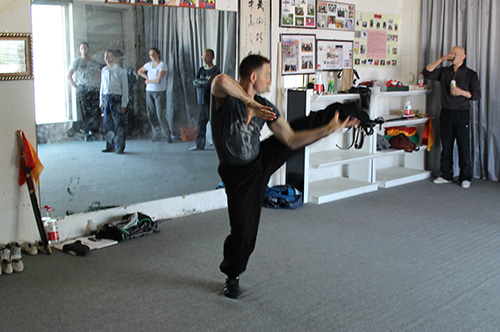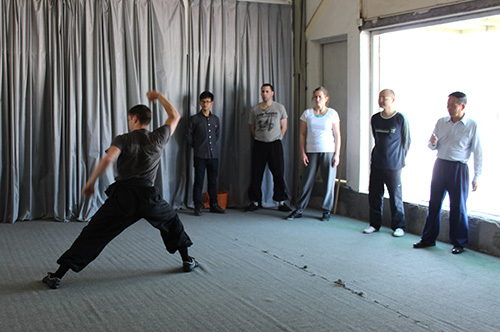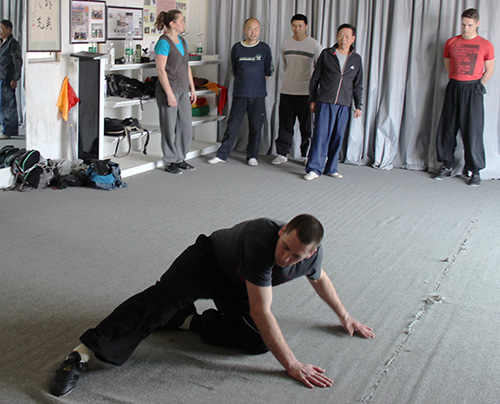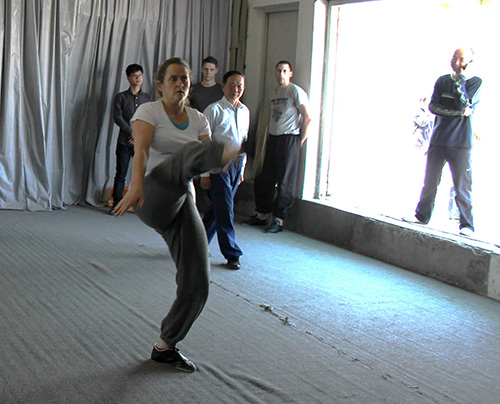 After a small rest we are off to GuShun Mountain (Drum Mountain) it's Mark & Liz's first time there and the sun is shining again. At the top is a active monastery and so the atmosphere is so relaxed; Incense burning, Monks chanting and like the name suggests in Shuang Yang….ringing the Bell beating the Drum. Originally this was only done when the temple was under attack and was used to call the monks to defend the temple. This is why the monks have different color uniforms, the red Monks could eat meat and were the fighting monks. Today its just a part of their prayer.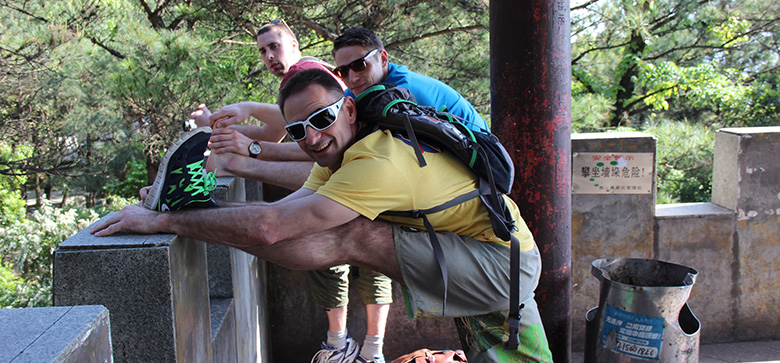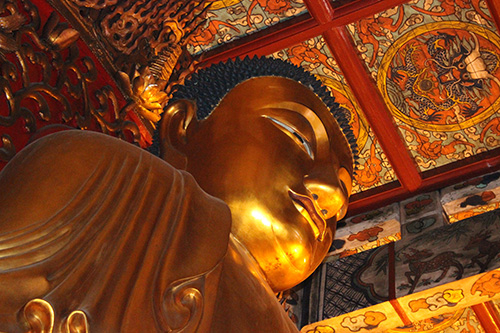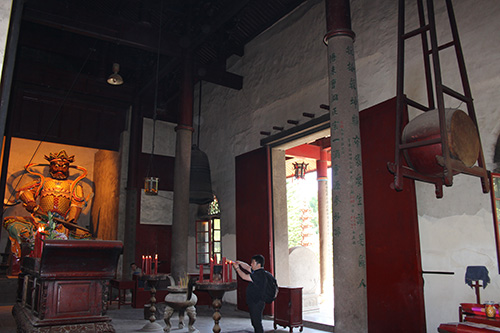 Back in the local town Neil, Mark & Mat all head to the blind massage place, to get a good working over ready for tomorrows training. Liz recovers with sleep….
Day Seven
The Four Small Doors pattern was finished today at the marble room of death and true to form the bruises, lumps, bumps and aches are starting to show! Just when we need to look awesome for tomorrow, as the Fuzhou TV cameras are coming to film us at XiYuan Village.
After training, we were invited out to dinner and as ever the food just gets better and better! Just when we thought the lesson was over, Zhen Quan (Master Lin's son) who is a Chinese doctor, taught us various points to press or hit to help the organs from different ailments and even some to prevent breast cancer.
After a small rest we headed up 30 storeys to the roof, for some weapons practice and then back to the room for further patterns training.
Day Eight
Everyone meets up and it's the usual mad drive out of Fuzhou centre to XiYuan Village.
Once there we meet up with the head of the village, most of the other top dog boxers and the Fuzhou TV crew. After some very loose instructions we were filmed for the now fourth TV documentary on Dog Boxing. We all performed well under pressure and the local villagers also seemed to enjoy the show. We did the San Zhan as a group, Lian Quan, Shuang Bian Fu, Two man binding form, Shaolin Dan Dao, Staff and the Iron shin bar bending skill.
After this we head for a big celebratory lunch and soon all the nerves are washed away.
Next, we arrive at what we think is a new place for Dishu Quan training. The area looked familiar although we soon found out that the government had knocked down the heritage site that was Chen YiJiu's original house. We had visited it previously and had performed there last year so felt sad that this had been allowed to happen just to build another high rise block of flats on the land. It was obvious the boxers were not happy.
At 5pm we were invited to Zhen Quans Chinese clinic to learn some more of the healing arts that go with learning DiShu Quan. Following this we head off for the mid week meal. This is always a messy affair as the day after is a rest day so we get to relax and have a few beers with our Chinese friends. True to form the food was good and the Chinese night clubs are as nutty as ever!……….
Day Nine
This is the one day where we mostly rest so we arranged for a friend to take us out of town to the edge of YongTai to a natural hot spring. This is exactly what it says on the tin – a hot spring! It has three pools of different temperatures and a massive hot swimming pool and a big cool pool.
Four and a half hours of soaking later and our bodies once again felt relaxed and ready for the last four days training. We are feeling a little tense this year as normally we have to show Master Lin and the other dog boxers our level but this time on top of this we also have the Competition with 600 competitors mostly of a very high standard, All I hope is that everyone performs to their best and enjoys the atmosphere.
Day Ten
Another new day and the lesson is more relaxed to avoid us killing our bodies before competition day tomorrow! The session flies past too quickly and lots more health tips on preventing breast cancer, clearing lungs, cleansing kidneys, sore throats, liver regeneration and blood circulation to the extremities is given. Also more staff locks and disarmament techniques were applied which built on what we had done earlier in the week.
The afternoon was relaxed and we went to Seven Lanes Three allies which is a newly built area that looks like the old houses of Fuzhou. It is very touristy but fun to hang out and get some gifts for home. Fuzhou city is a lot larger than London so you can imagine our surprise when walking around we met up with Darren Trottman and his gang from Southern Crane Kung Fu. He is one of my best old school Kungfu training partners and friend. After much talking and shock that we had seen each other, it was again back to the hotel to rest for the big event tomorrow.
Day Eleven
At 7:30am we met up with Master Lin, before heading straight off to the competition. A short bus ride and we were there. Everyone is excited but a little nervous as to what it will be like? As we get out we notice people darting everywhere, I have never seen so many martial artists….. Everywhere I look, and unlike in England most people are carrying weapons in from the street. The main hall itself is like a football stadium in size. Being a westerner at an event like this is a little like being famous for the day… every one wants their photo taken with you even if you don't know them!
We meet the head of the Dishu Quan Association Stanly Chan. He was quite friendly considering we are in competition with each other on the day. Everyone is watching to see how well us, as westerners, can do Chinese Kungfu!
Mark Lohan Staff competition
After a long wait, Matt Brooks gets the first call for Lian Quan. He rips out a perfect performance, taking Gold. Within seconds he has to do the Shaolin Broad sword. There are two people on the area and no separation and Mat & the other contestant are like the Red Arrows just missing each other….. Mat takes Silver. Immediately after we get the call for the group performance. We have four English & four Chinese in the team of all abilities doing San Zhan.
We do well and we get Gold again. Liz Billington takes Gold in the group and Silver doing a smooth Shaolin Perfect Staff performance. She then goes onto beat two well known faces in dog boxing, taking Gold in a good solo power generation San Zhan performance. Mark Heeler gets Gold in the group, Gold individual pattern and flies with the Lohan Golden Staff receiving Gold again.
Neil Johnson performs Group San Zhan, Individual Shuang Bian Fu, Two man sparring routine with Zhen Quan and Shaolin Broad Sword and achieves Gold medals in all events! The group overall performed amazing and their hard work really paid off. A good pat on the back is needed.
Adrenalin dumped we all fall asleep super early.
Day Twelve
We have two days of training left and the pressure is now off so it's time for fun, subject to a few important people turning up and having to show our stuff on the spot. The lesson today was on refining movements and adding more locks and counters from local styles like white crane attacks. You can see the local styles that are from the same area and had to defend against each other over the years. Today our old training friend XiaoYi turned up and as ever he is larger than life. After training he takes us out for the biggest lunch so far, such a huge spread of fine food. It Is ridiculous to find out we are meeting up in three hours for another meal for the last event.
At 5pm we head off for meal two of the day. Larger tables and even more people. On our table is Master ZaiPei Lin (Our Dishu Quan Master) (Head of Fujian Kungfu) when I asked what style he did, the answer was all of them!… Stanly Chan (Head of Dishu Quan Association) his wife and student Lin Bin, the top Lohan Master in China and Head Gymnastics Coach…. Master Lin's son XiangYao and our younger sister in Dishu, Neil Johnson, Mat Brooks, Liz Billington, Mark Heeler and the local shopping Mall owner. The other table had Master Lin's wife, Head of the Fujian Kungfu daughter who is also very skilled and our other training partners and friends.
Just when we thought it couldn't get any better, Head Instructor of WCFA Neil Johnson received a glass cup for the highest points out of everyone in the competition. 600 competitors in total from the…. as they say… leader of Chinese Kungfu.
What a trip this year has been and we still have one more session tomorrow.
Day Thirteen
In our last training class we run through all the new and old things we have learnt, followed by some binding and extra painful locks to add to the ever increasing list of dog boxing movements. It's always sad on the last day as we all know it will be a long time until we can all meet up again. We keep in touch with QQ the internet and DVDs but Master Lin's movements are always strong in my mind when back home. The strange thing is that people may think how can you learn a style when you see your master so little? But the truth is our foundation of kungfu is very good and so everything I see and learn is like GOLD so you make sure you don't take the lessons for granted. We ask and learn the finer details of every movement and each year we see one another my list of questions have been mostly answered by myself and then confirmed or are very poignant when asked. In this way you learn a much deeper knowledge of the art than when some people, have their Master in front of them all the time! My original Master Dennis Kar Swee Ngo taught me this and my strong foundation as he never gave much away unless you pushed.
I once spent two years putting the Twin Shaolin Moon Axes in places in front of him until he finally taught me!
All I know is that this method works well for our club and I am extremely proud this year of the group that went to China. We bought back 12 Gold Medals 2 Silver Medals and I as the head instructor got the Top award from all 600 traditional wushu competitors for highest score in all events entered….. We must be doing something right. I also know Master ZaiPei Lin is also very proud of his achievement in getting us to this high level. In China face is everything, and right now we have a good face to put on 🙂
Thank you to Master ZaiPei Lin, Zhen Quan, Xiang Yao and all our kungfu brothers, Sisters and Chinese friends.
Head Instructor Neil Johnson.