Trip to China, February 2009
Fuzhou 2009
Saturday 7th Feb
Four likely lads Neil, Dave, Pete and 1st timer Mike set off from Heathrow airport just in time because as we left, the snow started. We wonder if we would be like the other 800 flights delayed on Monday because of two inches of snow… Hurray! We escaped in the nick of time and ten hours later we arrived at Beijing airport with a five hour wait for the internal flight to our destination, Fuzhou city.
We pass the time looking at the shops and, far from it being stocked high with all the products of an international city, they all seemed to sell the same things, bags, scarves, wallets and alcohol. This is the Olympic town so I was ready for modern China. However Dave and Mike did get a Delboy coffee with Whipped cream, rose petals and cocktail trimmings. How sophisticated is that!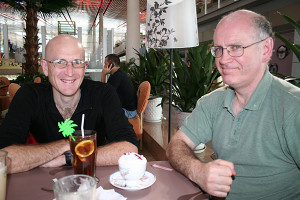 The time soon passes with normal lads banter and before long, we were boarding the two and a half hour flight and in, what seemed like one blink of the eye, we were there. I slept the whole flight, after-all, daytime here is nighttime in snowy old England. We collected the baggage and I went on to test my Chinese with the taxi drivers.
Well, all those lessons have paid off, as I was able to tell the taxi driver he was very expensive and we got the fare for half the original fee.
Another hour in the cab and we arrive at the hotel, our base for the next thirteen days of training.
After meeting with our good friend Mr Chen we go out for dinner in one of the street cafés that you would not even consider at home – Gordon Ramsey would have a field day! Needless to say it served as always, amazing food.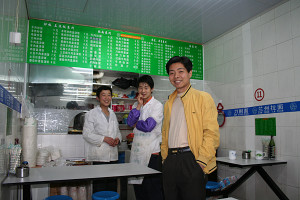 We all go to bed at what feels like the wrong time looking forward to the first day's training, Mike worried as we have been winding him up about the Dog master's initiation rituals. We were all worried actually because we have to show him how much we have improved since the last year's visit.
Sunday 8th Feb
We are up today at 5:45am; ready for breakfast, some quick last minute pattern practice, to make sure we don't do something nutty and we arrive half an hour early at the hall. We don't want to be late on the first day.
As ever Master Zai Pei Lin also arrives early to be ready for us. It is great to see him again but I then had half an hour to use up all my limited Chinese chatting to him about last year's activities. As it was my Chinese was not too bad if I may say so, for a dyslectic. Why do they make that word so hard to spell?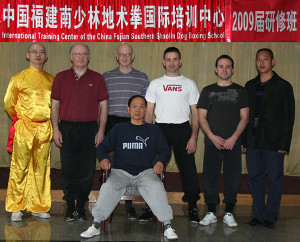 The training session soon began and it lived up to expectations just as it did last year. Mike was accepted as one of the Dog master's students and then we all demonstrated the pattern that we had learnt in the previous year's training
Then onto the new stuff: the two person sparring drills, all done on the marble floor sliding, coiling, stretching, squatting and all the things that Dog style kungfu is so well known for.
Four hours later we emerge from the marble death room feeling happy that everyone has passed the first day with flying colures. We take a long walk back via tearooms, this is, of course, Chinese style, a ceremony as much as a drink. Not crumpets and teacakes and a nice pot of Tetley tea bags. We return to the hotel for a quick shower, some more training practice and then off for a full body massage at a massage parlour. After some more rocket fuel food, Fuzhou-style, we head for bed to be ready for tomorrow – Zzzzz.
Monday 9th Feb
We start with a good hearty breakfast with veggie Mike having lashings of chilli with everything as per normal. We then walk to the training hall; we find out that it is only about ten minutes by foot and not the epic journey we had expected. The taxi driver had taken us the expensive tourist way on our first day.
At the hall, we start the rolling on the marble floor and the kindergarten mats that are about as thick as a tablemat. The fun begins. We run through some serious stretching routines to open up the hips – essential for Dog style training, then on to the two person torture, sorry, I mean two person binding techniques.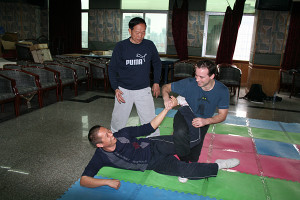 The Dog master has an amazing ability to cause pain in the right places; he moves like a snake and then constricts like a ferocious tiger. Taping, like in any sparring, will stop him causing you more pain but only after he has held the pain position for some time to apparently strengthen the joints and help you become more flexible.
After four hours training, we went for a walk around some of the places we had visited last year and end up at Panda World, a mad zoo that has lots of things to see like Pandas of course, smaller red pandas and we had hoped to see the lesser pandas but they were no longer there. Instead there was just an old peoples kind of gym with exercise machines that looked like a children's park, so of course we had to have a go on them all. Pete nearly brained himself, I fell off and Pete then finished the session with some involuntary shin conditioning.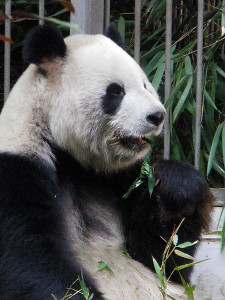 The last part of Panda World is devoted to a panda museum. Lots of photos of the old ways the Chinese used to keep Pandas – doing weight lifting and an Indo board-balancing trick with rings on each arm! But the most shocking thing we found was eight real human babies from two until ten months apart pickled in jars to compare to a Panda's foetal stages. We could not quite believe our eyes but, hey, it's China and that's why it's always an adventure.
We do some more training in the hotel room, after shifting the furniture around to make some space for the patterns we have been learning. I feel we will run out of room tomorrow and will need a hall to practice in, as Pete is getting good at wrecking hotel furniture. Why is it always him?
Off to another local food place with a fine menu selling Afghan Donkey Steak and the Noble Concubine Chicken package and well, what can I say? We all enjoyed the steaks, but not that salty orange juice.
Tuesday 10th Feb
Today started as per normal Fuzhou, a cloudy morning then as the sun gets up the sky clears to a nice twenty degrees. Everyone is waiting for us at the hall, Master Zai Pai Lin, Zhenquan Lin (his son) and the third member of our Chinese training team, Coach E as he is known for some mysterious reason..
Mike and Pete and myself start a new stretching regime that involves the usual "I can't go any further" until Master Lin pulls you in a way that you have never had done to you before. It seems like he is going to break you but I must say, I have never been so loose. If only we had a two week rest, to recover from the stretching alone.
We are beginning to understand the saying: THE HARDSHIP OF DOG BOXING.
Dave in the mean time had arrived in China with a bad back, both masters are doctors in both Chinese and western medicine. So they set about Dave with acupressure and then home made rubs followed by glass suction cups that suck the toxins from your body, and stimulate blood flow, Dave did look like something from the film Alien, and not Sigourney Weaver, with half his skin in the clear cup.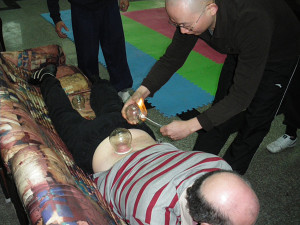 We worked on our two person fighting combinations and then on to the patterns, exploding our heads trying to familiarize ourselves with more unusual movements. Some are so unfamiliar to our crane system, quite different stances with new ways of moving the energy around the body. You can begin to see just how many finer points there are which make the Dog movements work. Any one can learn the basic movement but how to apply the small details set the good apart from the bad.
We ate dinner at a restaurant where we met probably the loudest woman I have ever heard – she commanded the waitresses and the chef with a tongue of fire. The food was good with fish cooked in Fuzhou red wine flowers.
The evening meal was less successful. Mike the long-suffering Vegetarian, was expecting some tofu, noodles, fresh vegetables and chillies but got ham and mushrooms. This is the norm in China; it's like a lucky dip, we order and then wait to see what turns up.
In between eating we visited the Xishan Temple a beautiful and relaxing place with incense drifting in the air and chanting monks repeating their mantras over and over again. I wonder if we manic working English people have got it right, always struggling to earn a living.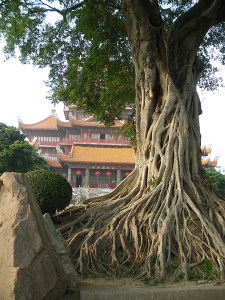 The people of China are very divided nowadays financially. The rich seem to be very rich but the poorest people smile at you and can be so helpful when you least expect it. I think the hardship they have had to endure has made them tough but they are still willing to help.
We also trained again in the afternoon but it's lights out early tonight.
Tomorrow will be tough as the whole new form we are learning involves one-legged squats and rolling on that marble floor.
Wednesday 11th Feb
At the hall, Dave gets his what is known now as Dave's Couch for a massage and we get to do forty five minutes of stance training – all with the thighs horizontal to the ground of course. We are considering hiring Dave's couch from him!!! Or just stealing it from him.
Today's lesson built on what we have been learning, combining more and more ways to totally disable a person. The focus is on being able to bind the other person with your legs and to have both hands free for more torture. Master Lin shows us what a lifetime's study of the art can achieve; his ability just shines in his movements.
We are improving: the patterns flow a little more as it sinks into the mind each day. It should do I guess, as we study for around three to four hours in the morning and a further one to two hours every evening.
We need those afternoon sessions to absorb the movements correctly, ready for the next day's teaching.
After the morning session, we walk back to the hotel but, as true Westerners, we have been missing our caffeine. We look high and low for a place that sells coffee and, after many times desperately testing my Chinese, we find a new swanky very English-looking coffee shop. In we go and sit up stairs in plush surroundings with nice lights and furnishings where we place our various caffeine orders.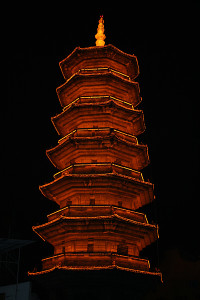 Half an hour passes and we get bored. I take a look at the very nice light hanging and then the biggest bang as it falls to the ground… Bits of stuff everywhere. Our panic is quickly followed by schoolboy laughter. We place every thing in ok looking order and divert any attention from the lights when the waitress arrives with one hot and three cold coffees. Also like overgrown school kids, we scoot downstairs and pay before she notices.
After a good brush up at the hotel, we take a trip to see the famous black and white Pagodas, one of which is made from granite. How they lifted the stones I can't imagine but they must have had some strength in the old days. Just thinking about all that work decides us to go for a much needed foot massage before bed.
Thursday 12th Feb
Today starts with the same routine breakfast, every dish in the same place again. There are only so many ways of mixing pickled vegetables, peanut soup, chilly tofu and meat buns. How western I am! I long for a good old coffee and toast with lashings of clover on top. Mmmm I guess I am only human.
Training, of course, is never mundane. I can whole-heartedly say that the four guys on this trip minus poor Colin who would have loved to been here if it was not for his brain haemorrhage, all have totally immersed themselves in the art of kungfu. It was three and a half hours today with more movement learnt in sparring practice and patterns.
The Chinese have such great names for each movement. They come from China's history, today, for instance, the take down was called Snapping The Bamboo Shoot. It comes from what people did to young bamboo shoots in the ground: when exposed, the snapping of the root would be the same as the martial movement – even down to the same leg and hand position.
The afternoon was fun. Chen, our Chinese friend came with us to the coast of China to see where a famous battle between the French and the Chinese had taken place. There was a war museum, an ancient Pagoda and the old British consulate building. Everywhere we go seems to have massive steps so even though our legs were already dead, Pete and me decide to run up them all again, it's ok until about the 200th step and then we started to fade quickly.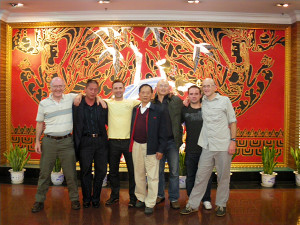 Nighttime soon arrives and we are meeting with Master Lin, his son and coach E for a quiet supper. This turns out to be quite a session of food and endless toasts to each other only somehow they were only drinking Beer and as visitors we were drinking BaiJiu (White wine) – 58% proof. To finish and apparently to help with the wine, they ordered peanuts and half duck heads cooked until crispy and coated in pepper, nicer than it sounds but it still didn't help our heads the next day. Zzzzzzz.
Friday 13th Feb
The day after drinking the Chinese way, started badly. Pete, Dave and I were suffering and sweating, I will never drink that sort of stuff again…well, I have said that before, I know. Mike survived much better than the rest of us so he was labelled the hardest of drinkers but we said it was just because he didn't have any friends to toast. Well, it made us feel slightly better any way. We resorted to missing breakfast and going to stodge up at Pizza Hut, not very Chinese but god it helped our recovery.
Midday we met up with Chen our translator and some other Chinese friends one of whom I have met before on a trip to the calling crane temple. We headed off near to a place called Yong Tai where there is a natural hot spring. What a way to help our aching muscles! There were three circular pools with different levels of: hot, steaming hot and boiling, there were also two swimming pools, one hot and one cool.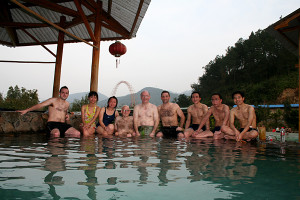 We sweated it out for around three hours, had supper at the same place and feeling refreshed, back at the hotel, we practiced our patterns. Mike gets a massage on his stiff leg ready for tomorrow and then it's time for lights out.
Tomorrow we think we have to hire a hall, as the patterns are now too big for the hotel rooms' floor, even if we stacked all the furniture on top of each other.
Saturday 14th Feb
Saturday, just like at home, is busy in Fuzhou and the streets are bustling as we head for to training. We arrive 8 am as normal and head up to the marble room of death.
We have continued to work on the fighting drills so the ground is far from unfamiliar but so far we have been concentrating on the upper movements of the second Dog style pattern Shuang Bian Fu (Double bats).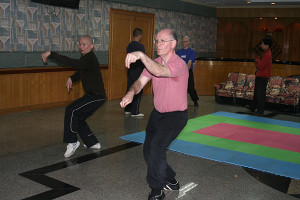 This is by no means easy as the whole thing so far is various ways of doing one-legged squats and is highly demanding on the legs. However all this leg strength is needed as today we begin the lower section of the pattern starting with Double Bats sitting in meditation… This involves jumping from a low horse stance forward into a horse stance dropping the knees in between the feet until sitting on the floor doing what we would recognise as a Twin Upper Crane Block. Ok, you say, but remember that the marble floor is unforgiving and we are doing an hour and a half of it. On top of that, tomorrow's movements are still ahead of us.
This why we love kungfu, testing the mind to see just how strong it is…. so far so good.
The afternoon is relaxing with a stroll round the town for about five miles, eating in various restaurants, testing the many delights and surprises of the local foods. After that we finished with a good full body massage at our regular place. This is a strictly "no extras" establishment. So no embarrassing confusion if I say the wrong thing in Chinese – it's just not that kind of place.
Sunday 15th Feb
At breakfast, Mike, Pete's guru in the chilli world, says he is upping the stakes tomorrow as he has got the hottest chilli sause he can find in town. From the beginning Mike and Pete have had chilli with just about every dish they have eaten, both are now in the hard core league, may be there will be a chilli contest before we head home.
The pace is faster than ever in class as we get used to the format of the stretching, leg lifting, stance training, footwork, rolling, binding and sparring – to say nothing about the patterns. Each day the finer points get worked on, and each day the pain increases. So far Dave who was on the couch for back massage is doing well, Mike had a short moment on the couch for a leg that decided to stop moving due to around 3000 squats and Pete's now been in for a quick knee tweak!!!
The banter is getting good between the first pattern and second pattern guys, as Chinese culture states that the more experienced person should be addressed as Older Brother. As you can imagine this is used to excess whenever possible. It has never been good being the younger brother.
Monday 16th Feb
The highlight of breakfast today, if you could call it that, was that they had moved all the dishes round. Wow! But the food was still the same all the same – so no real change there. Well what do you expect from a three star hotel in China? Egg and bacon and a steaming pot of coffee would be nice. We are probably suffering from Chinese breakfast fatigue.
Training was very cool today. We are all doing well; jumping into twin bats, sitting in meditation, flipping up from the ground and slamming our feet all around, using the different dog style kicks from the pattern. Then we practised the various binding movements on each other. It was all coming together, I felt.
The highlight for myself wasn't breakfast. It was when Master ZhenQuan Lin a Chinese and Western Doctor, taught me how to do the traditional glass hot pot treatment for removing toxins and locating an injured part of the body. This was followed by some different massage treatments that were completely new to me. I would like to thank Dave for being my guinea pig, my first suction-cupping patient.
Later we went to Drum Mountain with the dog master and his son, who is a Buddhist monk. He was able to tell us all the about the different statues in the temple and their history.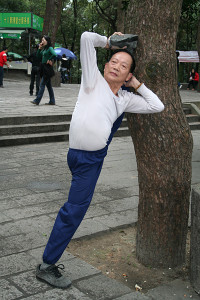 Tonight was a very special evening as we were taking Master Lin and his son to dinner at one of Coach E's friend's restaurant. This turned out to be in a very obscure place on what looked like a Chinese council estate. So we get led through the dimly lit back streets until we are taken into a grubby looking lift and descend into an underground type of restaurant for invited only people, normally, we are told, it is only for government officials.
Dinner was snake hot pot, snake gall bladder, snake tails, frog soup, finely sliced bird (I don't know what sort), pigs feet and mountain vegetables cooked in snake juice.
Nice.
Joking apart it was all quite tasty apart from the inevitable BaiJiu toasts again.
Tuesday 17th Feb
When the alarm goes off at 6.15 as usual, I think it is hard to believe that there are only three training days left.
I miss my family, of course but I can't quite imagine being back in the UK. The whole experience cannot fully be explained until you have been here but I love everything about it. The strange food, which is always full of surprises. Also trying to speak the Chinese, something I have been learning for the last two years. The more you learn the more difficult it seems to be. It has also been a phenomenal experience training with a true master of his style. Master Lin is the real thing, unlike many self-proclaimed masters in the UK.
With another five hours of training under the belt, the movements are just a little smoother, we have a few more bruises and we leave yet more sweat on the floor. We always leave the sessions with a smile on our faces.
Afterwards we relaxed at the hotel baths taking in as much heat from the sauna, steam room and the Jacuzzi to relax our muscles. What I did not expect is to see was Dave in the sauna, sticking hands, naked, with another Chinese man. Last year Dave was challenged to a spontaneous arm-wrestle in a local restaurant. He won that one too..
Like I said, only in China can some of these things seem like normal every day life.
Later we went to another hidden police-run place, for a tea drinking session and, looking like true tourists, I am sure, we all left with our little bags of tea in hand.
Wednesday 18th Feb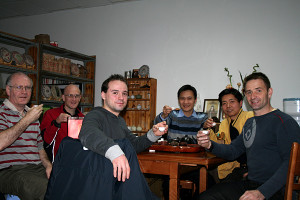 Today is the sky is clear in Fuzhou and we set off to class, that grubby cat we see each morning is still tied to the tree to keep the rats from the shops and the people of China are all in full swing, crowding the pavements and heading in all directions.
China has such an enormous population that they seem to have people doing jobs for the sake of having jobs. At one junction we pass there are three people with flags to direct scooters, bikes, cars, buses, lorries and people. The problem is that nobody ever stops – no matter what they do with the flags. It looks utterly pointless but it keeps people in work.
Up we travel to the eleventh floor to that marble room of death. The windows are wide open, ready for the day's sweat. We warm up and run throw all the stuff that we have learnt so far.
Today we have finished learning the Twin Bats pattern and have just two days to practice before we head home.
One of the techniques we learnt today was called Dog Biting The Corn. It involves coiling around the opponent's back; trapping the feet and then copying a dog biting the Achilles' heal. You really get to know just how a dog would attack.
After lunch, we head out to a place called Forest Park, not knowing what would be there. The great surprise was that, for the first time, I have actually seen a crane in China, even if it was in a bird sanctuary.
Apart from parrots on bikes and weight-lifting Cockatoos it was quite good. All the birds were free to walk or fly around so we managed to stand right next to some cranes.
I am sad to say, though, that the highlight of the day's walk was an archery competition between us all, which had the usual absence of health and safety regulations, and an adult park that became our very own adventure course.
We found what we had actually come for see: the one thousand year old tree. It was quite a sight and it is definitely very old, even if the thousand years is a bit of a fantasy. I bet it has seen some sights in its time; each branch grows a root down to the ground to support itself so the whole thing is massive.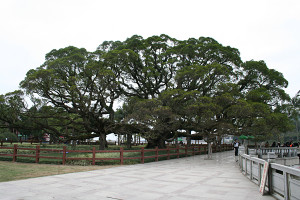 The evening was spent back at the massage parlour for some well-deserved pampering.
Thursday 19th Feb
Breakfast time again and we are all sick of eating the same thing over and over again. Apart from Mike, of course, who, we have decided has actually burnt all his taste buds with the vast amount of chillies that he puts on everything he eats. The rest of us have some conji with sweet potato, two meat buns and a large dose of hot Soya milk and then we are on our way to training.
We are all feeling good, as nobody has been on the couch for any treatment over the last few days. We start our seemingly endless stretching regime that is training us to use our legs like our hands and, after about twenty minutes, we begin to feel like we can function again.
So the class continues, more and more ways to bind each other and cause the maximum pain, just on the line so as to not to actually injure your partner. With the last training session in the morning, we are trying to absorb as much as we can before we return to England.
After training we head back to the hotel room, laden with the day's shopping of fruit and coffee. Pete, who is a chef back in the UK, is looking forward to being able to use his big new Chinese shiny chopper and he wastes no time when we get back before he slices his way through a pineapple, showing us how a chef prepares it properly. It is, inevitably, devoured in seconds by all of us. The sugar rush is so good we decided to have a good old scrap in our room – kung fu fighters never change, or grow up, apparently. Ending up in a big sweat, we go for shower yet again then it's off to the hotel sauna.
Tonight the steak house wins to our now galloping protein addiction but doesn't stop us going back for the next hotel room training session. We have continued to practice every night apart from the one night when we had the dinner celebration.. Not bad as most days our legs don't actually work after one in the afternoon. The locals must think the entire English walk like John Wane.
Having said that Mike did a full splits today with much pain on his face; well done mate.
Friday 20th Feb
The last day of training! We are sad to be leaving.
All starts as normal, we learn even more crippling techniques like, the Old Monk Carries The Pig, which involves ending up on your opponents back feeling like you're about to get snapped in half.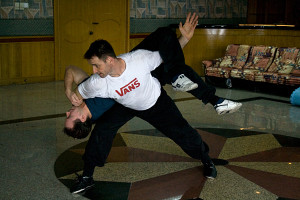 We all had to demonstrate the patterns we have learnt during in our stay and then show the binding drills with an opponent.
It's only on the last day that we start to notice the Chinese teachers have been trying to learn our names properly, so Dave has become Daywee, Pete is Pet-er , Mike is Mikael and I am Neow, well we are not much better it adds to the atmosphere of the whole experience.
Master Zai Pai Lin in the afternoon takes us to his Grandmaster, YiJiu Chen's old house in a village known locally as Kungfu village due to many top master's coming from the area.
We entered the old house truly feeling like we had stepped back in time. The whole area is being knocked down and rebuilt so it will properly not be their next year but the house for now looked as it would have for probably the last two hundred years.
It was an old courtyard of pitted concrete; it would have been compacted mud when Zai Pai Lin was a young man training there, with a granite edged plinth all around. The old way was that six or seven families lived around the courtyard and but spent most of the time doing the house hold duties of preparing food, washing and every day life out in the central yard.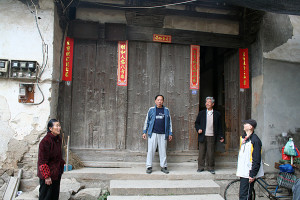 Grandmaster YiJiu Chen's oldest son, eighty two and still very able and upright came along with Master Lin watched us proudly perform the three wars dog boxing pattern saying it was good to hear the sound of dogs boxing in the village again.
After paying our respects at the Grand master's alter, we left feeling a piece of history will sadly be missed in the future but, also, having seen the condition they have lived in, you can see why China is moving so quickly to catch up with the West.
Tonight we are all meeting up for the end of term training big meal out, no doubt it will be as messy as the last one, so hoping the BaiJiu will not be out we all get smartened up for the night.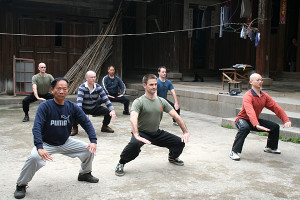 The restaurant is a swanky Fuzhou place with a private room, as China is considered so populated that you don't usually get any privacy, so a private room is seen as more classy.
Seated with all the finest china bowls and bright gold trimmings an innocent clear jug is laid on the table again. It is the BaiJiu! Luckily we managed to restrict it to a couple of toasts and then drunk beer. We English, and in Dave's case, Welsh, seem to be much better than them at this, so our heads stayed just clear enough to enjoy the night.
The food was the best we had had for the fourteen days in China. We were all presented with a certifacate to mark our achievement of learning the Dog Boxing.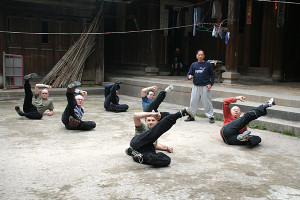 I was very proud as Master Zai Pai Lin gave me a stone seal as an approval to teach Dog Boxing in England and the guys who came out to China with me had been sneaking around to give me a matching stone for the White Crane Fighting Arts club.
Very happy with the whole trip, the meal ends and we head out with our training partner Coach E, who takes us to a mad den of iniquity with pumping music and all the underground type of things you can imagine going on. Coach E introduces us to his other Northern Shaolin fighting monk friends who are all connected in one way or another, it was good to see but to be honest my age must be showing and we headed for a quieter bar where we had real laugh with all the strange locals.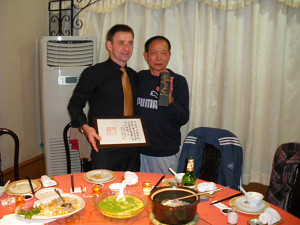 It was like going into a scene out of Total Recall or the bar in Star Wars.
Much fun was had before we fell into bed at around four in the morning.
Saturday 21st Feb
Sore heads and a long trip home, Breakfast is missed oh what a shame! I will miss the training here so much but as with all good trips away, I am looking forward to getting back to the normal and seeing my family. The flight is later in the evening so we have plenty of time hanging around the airport, that big marble floor is begging us to do our patterns on but we just do what most strange martial artist do just try to make strange looking movements of the hand and steps appear normal but with out revealing what we are actually doing.
It's a short flight to Beijing and the bags have been passed on to Heathrow airport, so we have fifteen hours to see the Capital…. The airport bus takes us to the nearest stop to Tian-men Square and the size of China is quickly apparent as the roads are seven lanes wide and we walk for a good thirty five minutes and as you would think, we can have a good look around the square but the whole area is fenced off with guards every where, it's about minus six in the wind and the guards have to stand on a red square in the same spot all night, we said they would probably have so many thermals on under the coat if you did attack them you would never be able the hurt them or their just so hard to be out their best not give it a try.
So Tian-men square of the tick list and as it's the night time we saw the door of the Forbidden City, every where looks closed and we still have ten hours so we check the guide book and take a taxi to a street that has bars open all night, from the dead of night, the bright neon signs of the road light up, excellent we pay the cab and get out, the driver takes off, we are greeted by a whole street of You want sexy lady in a strange Chingrish accent it looks like we found the dodgy part of Beijing. So a swift diversion and we found a Mexican pub of all places, with just about every nationality you can imagine. Good music, food, beer and company it was like an oasis from the minus six out side. Five in the morning soon comes around and we set of for HuWai Park a big lake where many people train early in the morning. Another twenty minute drive and the sun is not quite up, in the dark the lake's water is reflecting from the moon light as the whole lake is frozen, such a magical view that will always stick in my mind until a few moments later a man turns up on his bike and start to undress and put his swimming trunks on, we all look at each other and think No he's not.. well as we look on there is a patch of ice not frozen and this is because every morning of this mans life he swims in the lake out and back two times and then he get's out and pours warm water on him self, gets dressed and then starts his day. Chinese people are made of different stuff. We all do some slightly more sane stuff like exercise on the adult climbing frames with a ninety plus year old woman who gives us all a run for our money for stamina and the rest of the stay was spent walking around the old town. Tiny streets and a glimpse into the past before the modern high rise buildings, dogs every where barking and the city starts to liven up.
Time has run out so fast so back into a taxi and off to the airport, our final leg to home and what a trip, thanks to all my travelling companions not one hitch, just a life time of knowledge to work on and an excitement building already for the next years trip.
Head instructor Neil Johnson.