Trip to China, February 2010
Day One
Well we arrive in Fuzhou for the tenth time to date for me, so the crazy views and expectations are a little less strange than for most people on a first visit. China has never disappointed so far and each year it has great stories and memories that stay with me for life. This years group are myself head Instructor Neil Johnson, Instructor Pete Lassman, Instructor Matt Brooks, Dave Edwards and Mike Bray.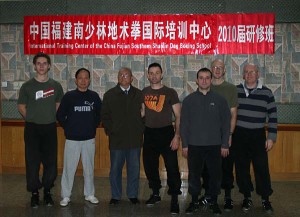 All have been to China training before on more than one occasion, so we are just amped to get training and meet our Di Shu Quan (Dog style) friends again. Tonight we did two and half hour practice training in the hotel to polish up any strange movements ready for our first performance in front of the dog master this year.
Each of us wants to do well or we will not get to learn the next pattern in the system. As Head instructor of WCFA it's this that can be the main part of the year for me as it shows how well I have progressed and how well I have taught the guys over the last year while in England. We have been told that this year's form will be an advanced pattern to learn and we will be working on the details of two person binding applications. We are in good shape for now!!!!
Day Two
Up at six in the morning, the Hotel is five star and out of this world. We have a room each and a lounge / training room when we move all the furniture out each day to practice. The first breakfast is a welcome sight, all sorts of food, eastern and western, to get us up and ready for the day. We meet Master Zai Pei Lin, his Son Zhen Quan and coach E as in the last four years we are welcomed and have lots to catch up on. We are training in the same room as last year known as the marble room of death, very smooth but hard and unforgiving as can be.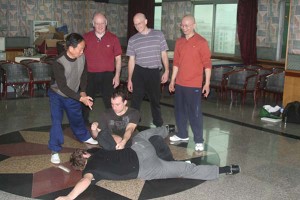 After a short ceremony we start the training, stretching beyond what feels normal to the human body, doing all the leg lifts, sitting stances, Lower dragon stances, Bagua steps locks and binding techniques and demonstrating the forms we had learnt the years before. The performances went very well and every one showed how hard they had worked in the past year on what had been shown.
The afternoon was filled eating training and seeing more temples, although I have seen so many temples, it never stops to give me a sense of peace when in the Buddhist temples. The smell of joss sticks, chanting voices and rhythmic instruments. Along with the tranquil monks, it can't not make you feel relaxed. En route to the temple we found an old pool table and had some fun playing Killer at the side of an old street in north Fuzhou. Tomorrow we start the new pattern Seven Stars of dog boxing falling to the ground.
Day Three
The training hall is a short ten minute walk from our hotel and after day one of training, the John Wayne walk has started again due to the amount of hours the legs get worked. Pete described his legs as walking from the hips as his thighs did not want to act as normal. However, after stretching today we realise that we had indeed not been stretching to the limit as the detailed fine art of stretching moved us to new limits. Mike our star stretcher was called a foreign monk due to his monk like postures and his bald head, much to our amusement of course.
The new patterns' first section was taught to us, including some of the applications from the form. As ever the pattern is traditional and very functional as a martial art. We also learnt a new binding movement called the golden scissor. The end position of the person attacking makes them look like they have their legs on the wrong way and the pain is held in every joint.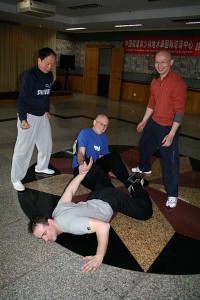 Master Lin's knowledge of the body and how to manipulate it to achieve the maximum pain is just amazing but at the same time his softness is always apparent.
After some well earned coffee and snacks we did some more training in the hotel room to cement the mornings teachings. Then on to a good old local noodle shop to eat. Each time we order it's always a gamble as to what we will get as our Chinese is still far from perfect but this is what makes the whole thing more fun. Chen our friend and translator then met up with us and took us to a tea house to try some of the teas available, they take their tea more serious than we do our wines, so you can only imagine the cost and flavours that can be bought.
Evening comes and we have one more training session before bed and some well earned rest.
Day Four
Today's training was fun. We stretched as we do each day and then moved on to the leg lifting, conditioning and then on to the Seven stars falling to the ground pattern. This pattern specializes in the three planes of attack and defence so thereby means you spend the whole time moving from each level to the next height. It was all good fun until we got back to the hotel and sat for around ten minutes and then we realised what we had done to our legs….. They had stopped working!!! Mike did manage to out do him self by achieving the Ultimate lotus position, making him look very unnatural but beautiful to master Zai Pei Lin.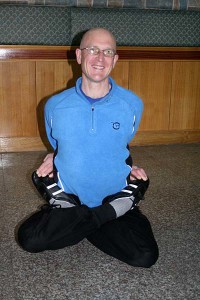 So we thought we would try to go and see the temple that was closed on our last visit and loosen the legs off. The Zhen Hai Lou temple was built when Fuzhou was mainly forest and the sea could be seen; if anyone invaded the alarm could be sounded. Now as with any viewpoint it's high up so as ever we found hundreds of steps to climb to get to the top. It was worth the hike for the views but the legs paid the price for us all again later. We went to have more tea at one of the many tea houses in Fuzhou and I got what's known as tea table envy in Fuzhou, as Matt found a good looking stone tea table and they only had one of course. Much to Matt's proud walk back to the hotel. Tiger balm, more food and we were ready for the night's session to recap the lessons so far. The tiger balm did the trick and we settle for a film to end the night.
Day Five
Breakfast time again but the Chinese being the way it is out here the coffee is like glue, so we have to dilute it one part to four water to make it drinkable then as English as we are then ready to go… The legs are feeling better to day so things are looking up, we start after the normal stretches and stuff and move on to some two person training drills, combining conditioning, foot work, binding and the rolling movements. The Seven stars form moves on with binding movements like the general peeling of the fruit and biting the rice dumpling. All painful but good fun as we push each others limits a little further. Lunch time we found an old part of town that reminded me of when I first came to China. So we sat at the road side restaurant and ate good local food while watching the world go by.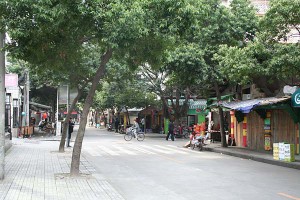 Good food and rest and we are set for the afternoon. Three P.M. and we have been invited to Zhen Quan's medical office to learn some massage and healing techniques. Before we know it Pete and I have been stretched with a weight on one leg, Matt had Chinese hot pots sucked on his shoulder and Dave had a mini oven on his back! It was truly very interesting and a whole different world from what the western medicine is like, but it was very effective. Back at the hotel room for the evening and we get some more training time in before falling in to bed to recuperate for the next day.
Day Six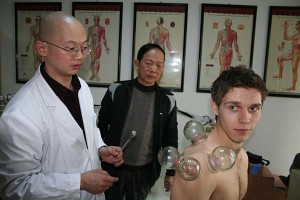 The day of show and fun… We turned up for training today and the usual people were there: Master Zai Pei Lin, Zhen Quan Lin, Coach E (a Shaolin monk) and Chen our translator. We get sweaty training as normal then a local reporter turns up for an interview and some photos, followed by a Mr Li Yi Duan. He is the Deputy Secretary-General of the Fuzhou sports federation, Honour Vice-Chairman of China Fuzhou Wushu Association and Honour Chairman of Chin Karate do Association. So we perform the Di Shu Quan Patterns and sparring drills we have learnt over the last three years and things went very well, he was a very welcoming man who also speaks English quite well, so the conversation flowed well and the next thing he asks us if we would perform in two years time in the biggest Fuzhou Martial arts Competition. I of course accepted and was extremely proud to be invited. The guys did WCFA proud in their performances as only a high level of Kungfu is shown at the event.
So the morning was tense but now we got to relax. We went back to the place we visited last year the Forest Park of Fuzhou and it was a real good fun lads afternoon. There was a huge track; it's a bit like a roller coaster slide with a sledge on wheels but with out any safety stuff as its China, what fun we were like kids steaming it down the track, timing each other to get the best time. The loser got to eat a surprise dish at the evening's meal.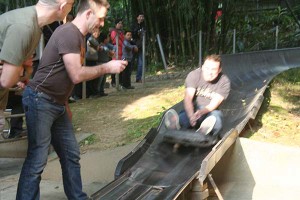 So five big grins later and watering eyes from the sheer speed we got up to, Peter got 1st place and Dave came last after hitting his knee on the way down and was just glad to have made it alive. We went on to do archery Chinese style…..no safety and BB gun shooting for various rubbish like plastic jade earrings a wrist support and kids nun-chuck's. Only in China! We saw some red crested cranes in the forest park bird sanctuary and so enjoyed watching them move for a while and got some good close photos.
Two more hours training back at the room a small lunch and a tea house visit finishes us off for the night.
Day Seven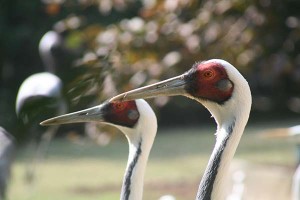 The sixth day of training and the everybody is feeling good but achy all over, after all the sessions are always on the marble floor but it shows last years practice has paid off as no body has any knocks, just stretched bodies from all the binding. Each posture is designed to go against the opponents body's natural movement and at the same time take the strength from the opponent so as to be able to control or break them. Today we did a movement called the upper section hooking, this ends up with the attacker with their shoulder and face driving into the ground and ending in a downwards facing arm bar, their own body weight causing the pain!
After training we went to the park where our Master trains each day and the local reporters and photographer came to take some more photos. We created quite a crowd after performing our San Zhan and Shuang Bian Fu patterns, after we did some two person sparring drills and binding, all in the heat of the day, whilst trying to look cool.
The strangest thing was after when we walked looking at the sculptures that were being made for the lantern festival and the photographer wanted us to all hold mannequins of small boys and girls, this was the maddest thing ever and of course we all just cracked up so who knows what photo will be in the local Fuzhou paper.
No time to rest we rush back to the hotel to change and its out for our half way meal out with everyone. We always take everyone out that trains and Master Lin's family. This mostly ends up with hundreds of toasting and every one getting drunk, and having good fun, good job tomorrow is our only day of rest. Dave and Mike were last seen in the dead of night heading of to a KTV bar afterwards so who knows…?
Day Eight
The day of rest. It's nice to wake up in our own time and for the first time we only managed to drink a little Bai Jiu (Rice wine) this is generally like petrol at 47% So mainly beer toast were done. We go to see a temple in the middle of town while Mike sleeps of his KTV antics. Dave is obviously harder at the drinking than him, as he was up and about. The temple was just a spot of peace and calm amongst an ever growing city of business and tall buildings, so it was good to see the Chinese still keep places like this.
We devolved ourselves with a Pizza Hut meal for lunch which felt great at the time until the last extra piece. We all should not have had the extra and then we just felt bloated out. No wonder, so many English are three times the size of the Chinese. The afternoon was a good old full body massage, with our kung fu brother Coach E. It's kind of our midway service to ourselves. Off for some tea in one of the hundreds of tea shops and then we headed back to the hotel room for a few hours kungfu practice before tomorrow's lesson. Sleeping is never a problem as we generally are doing six hours a day training and walking at least five miles. ZZzzzzzzz.
Day Nine
Today I thought I had the holy grail of an English breakfast, with potatoes, scrambled eggs, sausages wrapped in bacon and toast, but the bacon was actually wrapped in salmon and the bread always has a surprise inside like beans or general stuff you would not expect. Training today went quicker than ever, our sparring drills are getting smother and the Ba Gua interchanging techniques are flowing more each day. We learnt more of the Seven Stars form and todays binding was the Dog entering the cave and the Monk Meditating. Needless to say the opponent is far from meditating.
The guys had a walk through some more of Fuzhou to see what they could find and I had the news reporter arriving for some more depth on our trip to China. The evening was practice time and then some more fine tea tasting. The days are flying by too quickly and today is the hottest day so far, at around twenty six degrees.
Day Ten
Fuzhou today is forecast with rain and unlike England when it rains, it rains, big time, I have not seen it like this here before, but the heavens just open and ten minutes later the sun's out again and this happens every few hours. Even so, this was the most sweaty training session to date, so bad that we had to dry the marble floor between each pattern as each time you roll you leave wet patches and if your jumping onto the floor from a height it's not good.
Tomorrow we finish the Seven Stars pattern and then have two days left to practice all the stuff we have learnt this trip. Our brains are starting to fry! After training we went to the hot springs that we went to last year, and just like then it was indeed well needed the springs are a volcanic spa with three hot small pools and two Olympic size pools, all different temperatures. So after a four hour soak we felt rejuvenated.
Back in Fuzhou Chen, our local friend, and Coach E came and had dinner with us, we had the normal stuff like duck feet, intestines, and cat fish, to name but a few. For the first time we only did a little training at the hotel and then bed.
Day Eleven
Today was not quite so hot but the sweat keeps coming. Each day we get better and the movements are more natural than ever, its harder each year we come out to China as we are practicing the movements more and watching them show us less. This is because our principles of the style are getting stronger we are picking up the movements faster. After training we take a walk around town and we say to each other I wonder why our legs are acing so much. We then work out that with the two person drills, binding and forms we do the whole three and a half hours is spent getting up and down and jumping to the floor and jumping up high as possible, it starts to make sense! And that's without the evening sessions.
The afternoon was spent at Panda World and although it's good to see the Pandas, I did not expect to see Bears doing tricks and dancing. I thought this was illegal around the world but here we were, having paid to get into this place. Needless to say they did not advertise the show or we would not have gone in there. The Bears looked in good condition but the bear tamer had a metal stick, you got the impression was used far more when we were not there.
On the walk back we watched some people singing Chinese songs and having fun dancing around by the Lake Side. Evening soon comes around and we put another two hours training in at the hotel, before an early night.
Day Twelve
The Seven Stars Falling to the Ground pattern was finished today, with the final part having a double roll projecting upwards and backwards then the normal Di Shu Quan finishing section. It was great fun launching our selves as far as possible. The form covers a massive space so the club's classes will be fun since to do the form in full size every one would have to stop training and watch.
The body's battered and bruised but proud to have learnt another form from the style. Dave is the oldest of the group and he has not only lasted but looks good doing the form, Mike has impressed Zai Pei Lin with his Ultimate Lotus posture, and flexibility, Matt on his first meeting with master Lin has shown his strong foundations of kungfu and his patterns have shown his skills to be of a high level, Peter has impressed them with his ground work and most of all his two finger skill of hard qi gung and I have shown the Iron Leg and Arms skill of qi gung as well as leading the group in the finer details of the form.
The afternoon is spent watching a movie and then heading off to another tea house, with Chen and as most of China's stuff is tacky or very expensive we all got lots of tea for gifts. The evening was good fun, we went for a massage and had the maddest taxi driver ever, who tried to go up every lane the wrong way! And on the way back we all got the street bikes to the hotel. It's Lantern Festival tonight so there are fireworks being let off everywhere as we race through the streets of Fuzhou.
It's an early night for the first time ready for the last day's training tomorrow and the end of trip banquet.
Day Thirteen
The training session starts as normal with all the stretching routines, leg lifts and two person fighting drills. Next two more people appear in the room we don't know who they are but we are told to perform some of the forms we have learnt over the last three years, the performance was good and Master Zai Pei Lin seams very happy, immediately after they have gone we return back to the normal class format. We refine some of the finer details and then spend a few hours on the binding techniques, which is great as this is the best part for me, trying to apply movements smoothly so the opponent falls in to their own fate.
Time flies too fast and as the last session is finished, we are told that every one has worked hard and our improvement has pushed them to also work harder, nothing like a bit of competition to move things along.
We get a couple of hours to pack before we meet up with Coach E for a session on some pool tables. We arrive to a small door that leads through a massive store and up 7 flights to a mad games area, you would never know it was there if you were not with a local. China is all about who you know and what you have to offer, scary but true, we were told yesterday that if you see an army guard in a fight even the police would not stop the fight, even if he is in the wrong! A good time was had and we head off to an old restaurant in Fuzhou renowned for its good cuisine. Good food, several what felt like a hundred red wine toasts and another year of good friendship and learning under the belt. Truly an inspiration meeting Master Lin and his son Zhen Quan as their level of Di Shu Quan and the body both in pain and healing abilities are second to none. So we have a year to work hard and show how much we have improved again next year.
On the way home we visit a few bars and go into a night club that Dave and Mike found in the week on our night off, I have never seen so many lights in one room, mad Chinese techno music and dancers everywhere, well you can guess the rest blurry vision… laughter … and heads throbbing in the morning… Master Zai Pei Lin, Zhen Quan Lin, Yi Gong Zi and Chen our translator and friend all come to see us off at 7am in the morning. It's a sad goodbye but an amazing time, we can't wait for the next trip.
Just the 17 hour trip home…
Head instructor Neil Johnson.