Trip to China, February 2012
Another year flies past and it's time to travel to Fuzhou again to Visit Grand Master ZaiPei Lin. Each visit has it's fun and this year was no exception… England was under a snow weather alert, so we left for Heathrow Airport the day before planned as the snow had already started to fall. The normal trip of an hour and a quarter turned into a three hour trip for us and a six hour total journey time for our poor selected rally driver Craig, a family friend.
Our team is six strong this year – me, as ever Neil Johnson, Matt Brooks, David Edwards, Mike Bray, Bryan Butterworth and Liz Billington. All have trained with our club for over eight years or more, so quite an advanced group visiting, to learn as much as we can and advance our level of Kungfu.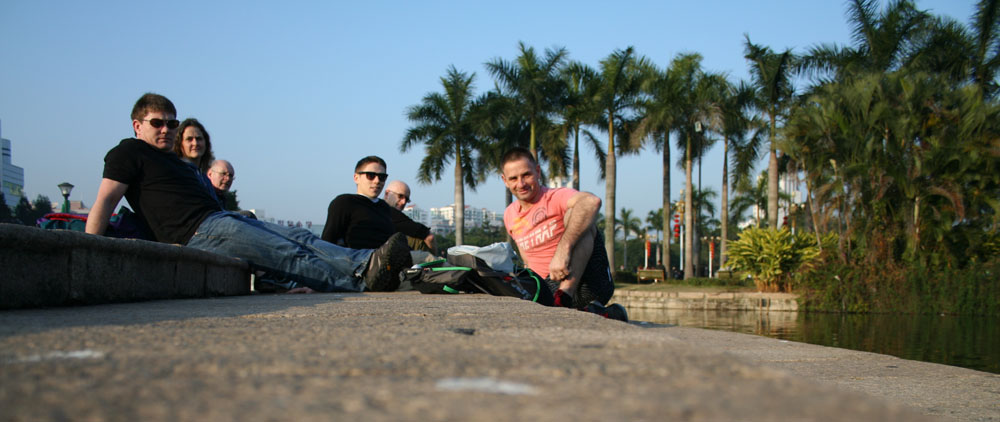 Sixteen hours later, by car, two planes and a taxi and we arrive at the Enjoy Hotel where we were greeted by a big group of smiling faces – Master Lin, Zhen Quan (his son) and another training brother we meet for the first time. As ever Master Lin knows a man at the hotel so gets us all booked in safe and sound. The hotel is four star and no cockroaches so far! It's not quite the lake side hotel this year but good for the price we paid! The fun of everyone catching up and introducing Liz as it's her first trip to China, starts. The food was great and if you know Fuzhou it has that taste that you only get here but you know you're back!
A small walk to the Hot Springs Park to take in the sun and views, then we head back for the first hotel training session ready for tomorrow's first lesson with Master Lin. I should now call him Grand Master Lin as he has just passed his 7th Duan (Dan) grading and, under the Chinese Duan system, this means you can officially call yourself by this title. Congratulations to him for this achievement after 63 years training.
Day One Training 6th
Goodbye Western breakfasts, now let's see what the Enjoy Hotels breakfast has to offer. Having had Chinese breakfasts with congealed blood, chickens feet and such I was ready! Having said all that it was very 80's modern in a space craft kind of way but the food was traditional and quite good, veggie's, horses urine eggs, bun surprise as you never know whats in them, veggie or not. Hot soya milk and devils fingers to name some delights. A frog jumping around added to the whole atmosphere but all felt we were ready.
Master Lin meets us as planned at 8am and we are in the marble room of death again this year. Liz is a little apprehensive to where we are but follows the old school team to the room. The opening ceremony is over quite quickly and as ever we start by a stretching regime and all the leg lifting exercises to get our bodies ready for the session. Warmed up, we all perform one by one, our patterns both single and two man patterns, we all want to show the improvements over the last year from when Master Lin was in England with us.
The grading, but not a grading, went well and Master Lin was happy with the progress everyone has made, much laughter from both sides was had as each year we become more a part of the Chinese team as we get to know the other students as friends and not just meat to work on…..
We refine our binding skills to a higher level with some fine adjustments and learn a new routine Lohan Tiar Bi Gong (Lohan Iron arm Skill) with Bagua movements adding to the movements we already know showing how DiShu Quan (Ground Boxing) is so much more than just ground fighting.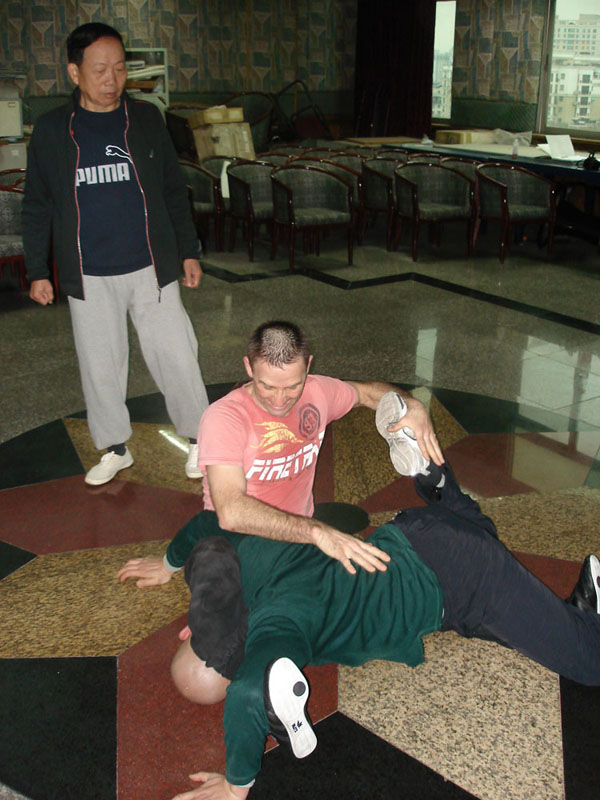 The afternoon was spent eating, walking, sight seeing down mysterious allies and another two hours training at the hotel. Tired bodies and minds we sleep ready for the next day.
Day Two Training 7th
6:15am the alarm rings, its time to train….. bodies now on Chinese time, we head for breakfast knowing what to expect today. Chinese New Year has finished so the staff look like they are back on the ball. Like us it was a holiday period where they all visit families, eat and drink to celebrate the Chinese New Year in. We even got a coffee today with the breakfast! How western!
It's raining and cold this year in Fuzhou so we head off to train in all our coats and hats, not quite the sun I was expecting but once in the marble room of death it's tropical anyway due to our own sweating in training. We refined our patterns today and the binding movements taught in previous years followed by more Bagua stepping and arm linking methods. One of the other Dishu training brothers Yu Wei Hua joined in training today, he is very strong and short in stature so compared to Matt Brooks who is a lot longer, we refined the differences as to what to do against other size opponents. Lots learnt, bodies worked the lesson finished too quickly. The afternoon was spent visiting two local Buddhist Temples, soaking up the atmosphere of incense and the Chinese architecture.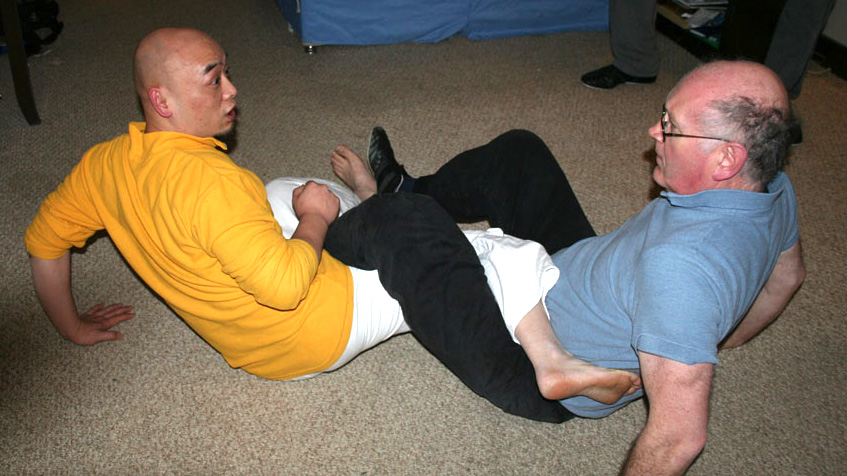 Back at the hotel, Yu Wei Hua joins us for the evening training session for another two hours of working on the latest teachings. As ever we practice to help learn as much as possible during in our trip half way around the world. All the team are working hard and the skills are showing in the performances. The day is finished with some top Fuzhou street food and some well earned Zzzzzzzzzz!
Day Three Training 8th
Training today started with Master Lin asking if there were any injures as it was going to be a tough session. Before you know it we are jumping throwing our arms and kicking before we have even landed on the floor, followed by 360' sweeps and the patterns only just started! It could be a long nine days left training. All joking apart it was such good fun and we learnt lots of new locks and defence against locks from within the patterns.
Training over, we all went for a full body massage, the price has risen ten times since my first trip to China in 2001. Food however, if you go the the side streets, is still very cheap and if you ignore the surrounding dirt, it's always so tasty and such a good atmosphere. Relaxed and fed, we start the evenings training, knocking up another six hours, more than some people do in six weeks! Zzzzzzzzz!
Day Four Training 9th
Today we started the Lian quan routine. Zhen Quan Lin (Master Lin's son) started the session showing us the pattern, he was on top form, as he has just graduated to sixth Duan. This pattern was part of his performance, so after the initial glazed eyes look that all martial artists have when they see a pattern truly done with flow, fire, poise and focus, we set about trying to replicate it and start learning the first section!
The session passes to quickly and before you know it, it is the end of the fourth class. Time flies too quickly and there is still lots to learn and correct, but each day we refine the previous movements both in form and on each other. Kungfu has no short cuts so bodies battered again, it's back to the hotel to freshen up and soak the muscles for the evenings fun.
The afternoon was spent in tea houses and eating more delicious Fuzhou food before Master Lin, his wife and son came to visit us at our hotel for a social visit and to drink more tea. Another training session was had on the carpeted floor after they left, to sink in the new movements before tomorrow. Zzzzzzzz!
Day Five Training 10th
I woke up today blurry eyed, checking my watch as it was dark out side, even more so than normal so thought I may have set the alarm wrong, but it turned out that the fog was just so thick today! Normally it's hot and sunny, but this year no such luck, it may as well be England.
Today was exciting as we trained in one of the halls the local dog boxers train at most of the time. Quite a few people we know turned up as well as a few new faces, some younger children and local security guards. So its performance time! we run through the training sets and patterns with a good response from the locals. Some of them also showed their forms, including a military form from two of them. Finally we showed some of the binding techniques and had some fun letting the kids bind us up, with much delight to them.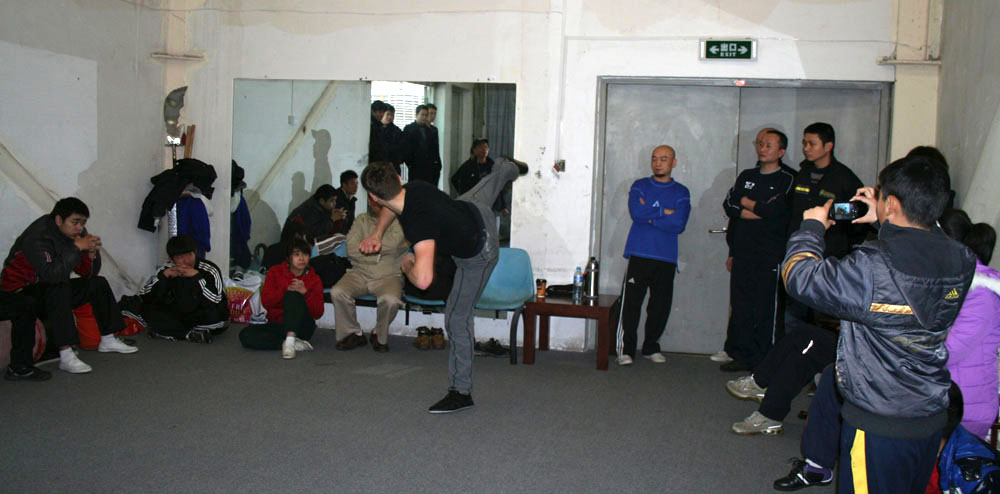 Master Lin invites us to his end of town for a lunch and then we go back to his house. As ever, he and his family are so hospitable in welcoming us in and showing us photos from the past and a rare video of him and Chen Jijiu performing in Japan in 1986. There was a team sent from Fuzhou to represent the kungfu styles, DiShu Quan (Dog, Ground Boxing), Bai He Quan (White Crane, Huzun Quan (Tiger style), Ziranmen Quan (Natural Boxing), Long Quan (Dragon Boxing). Lots of photos later, we head back to the hotel for some rest before the evening.
Day Six Training 11th
Back at the marble room of death, the lesson starts as normal with the inclusion of a few more local students training with us today. Lots of two person stretching and leg lifts, all good fun as we get to know the other dog boxers a little more. After a few patterns, the Fuzhou TV Station arrive and film our performances. We each give interviews, most go well but Liz had the fun of language confusion as she somehow ended up being a Polish police woman and was asked if she had apprehended any one using Dishu Quan! The session went as fast as ever and a few more bits were learnt form the Lian Quan form. Lots of different hands and directions to get in our heads, we may only have time to learn half the form but half is better than all done badly.
Tonight is the first of two big meals and this one is the half way meal. We all get to chat, catch up, drink to much beer & Bai Jiu! (Rice wine) The venue for the meal is only just across the road from our hotel. So at 6pm off we go, up to the 8th floor where the lift opens to a bustling restaurant with lots of red and gold colours everywhere. We are shown to a private room. China has so many people that privacy is valued so rooms like this are a high status. 13 of us are sat for dinner, all the usual gang, and a special guest Master Li Yi Duan (head of Fuzhou Wushu, Sports federation & Karate association). He is 87 years old and we last met him two years ago, so it was good to catch up on what's been happening and on the history on both him and Master Lin growing up in Fuzhou. The food was out of this world and cooked by a local celebrity, maybe like our Gordon Ramsey! All I know was it all tasted good. Too much beer later we all retire to bed. Zzzzzzzz!
Day Seven Rest! 12th
It maybe a rest day but….. we wake up with a hangover from last nights fun and frolics. At 1am in the morning we are told our taxi driver is coming an hour earlier than planned! So at 7am when the alarm sounds breakfast is very quiet, however, we all managed to get ready and leave for Yongtai, Qingyun Mountain, a very scenic spot with lots of water falls and walks. After two and half hours, a flat tyre, nearly running out of petrol, the whole road leading up to the base of the mountain being mostly dug up ending up with us having to walk due to sections of the road having deep holes in it…….we finally arrive!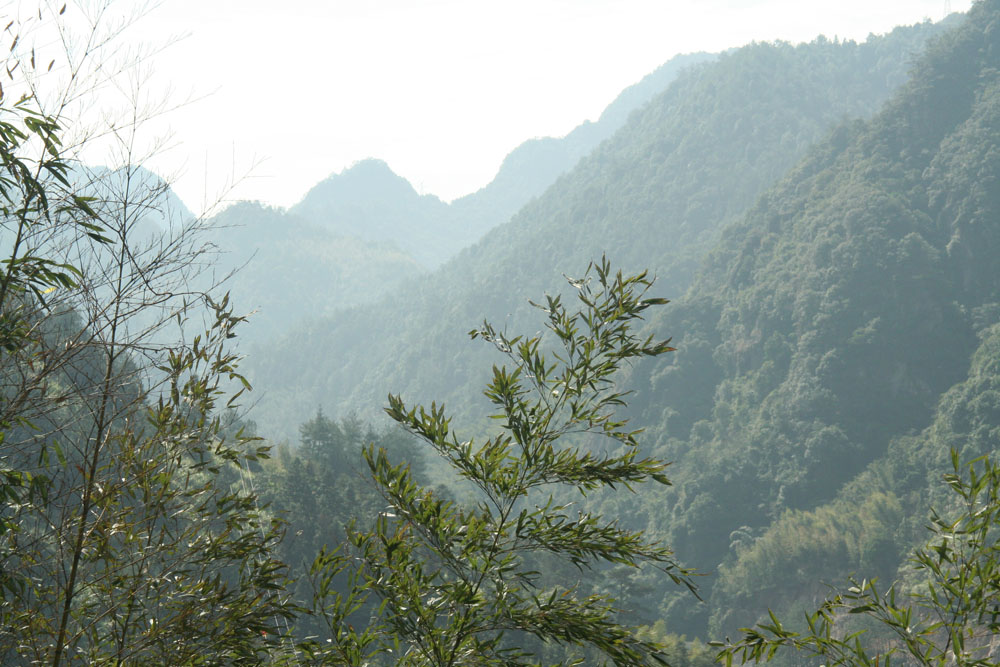 The walk was two hours long, steep, slippery or on the edge, but the views were amazing. The water falls were just mesmerizing and you could spend the whole day at many points and take in the views. The area we were in was only a small section of the 52 km of the natural beauty spots listed in the area. The Yongtai people were a lot more like how I remembered China in my early visits, but times are changing fast. Fashion now in Fuzhou is moving fast like in England. The last part of the rest day was spent eating ourselves out of the remaining hangover and performing some more patterns practice ready for tomorrows training. Week two starts and there is still lots to learn and do.
Day Eight Training 13th
Training today was straight down to business, usual stretches and leg lifts but then we learnt lots of the new Linking fist pattern, putting most of the new dynamic movements we had been doing before earlier in the week. As ever super cool and very effective in application. After the mornings training we met up with Xaio Yi, an old training friend from the first years studying DiShu. He is relentless in everything he is doing be it Kungfu, chatting on two phones at once, drinking or eating! He takes us all to dinner and is true to form as ever, just a little less beer as the reporters are coming to the hotel tonight to see how we train in the evenings at our hotel room.
By 7pm, Master Lin, his sons, reporters and all of us were settled in our hotel room. They are very interested in how we train and the style of teaching compared to China. We really have become mini celebrities in Fuzhou, as each year they follow our story and many of the locals have started training because of the coverage. They love the fact that we stack the furniture up in the room to make space to train and how many hours we put into learning as much as we can. They asked if we would just train as normal but we reminded them that Dishu is a secretive style and said they had seen enough but we are happy to answer any questions they still have to ask. Master Lin was so happy that we respected this side of it and I finished with a story he told us that stuck in my mind! Master Lin had practiced a movement for ten years before Master Chen Yijiu showed him the true martial application for it. Often it's not martially what people think who look from the outside. This kind of training makes you value the teachings.
Day Nine Training 14th
Breakfast chinese style is wearing a little thin! The same each day, except today there is no tea or coffee but hot orange juice! Straight back up to the room to get our western coffee fix and then we are ready. It was business as usual today until a new man arrives watches us, then gets up and performs part of a pattern. He has very good power generation but is out of shape which shows again that over here you never know who is good or not. Chen YiJiu was about 5' 2" and able to take anyone down and bind them up to submission or break them.
Today we learnt so much about the style and history directly from master Lin told by master Chen YiJiu about how the style has Dog, Crane, Dragon, Monkey and Lohan in the forms. We were told Master Chen YiJiu was also active in training the style up to 94 years old and teaching up to the end at 96 years old. We were also told how the to different linages have developed from the Nuns and the Monks, more to come on the website soon www.shaolindogboxing.com.
To top it off we learnt the end of the Linking fist form, so now we just have a life time to develop it to a high level.
The afternoon was arranged for us to visit a very cool Kungfu shop….. at least that was what it was going to be in our minds but as ever it was mostly cheap Wushu stuff. A few straight swords, broad swords and cases later and we were off back to the hotel room. A short rest and then we ate at a local noodle place. Delicious food and we all watched as the noodles were hand made on the spot and all for £1.10 each! After this we returned to the hotel for the evenings training and then some well earned Zzzzzzzzz!
Day Ten training 15th
Today we started training and shortly after we had begun we were off to meet the head of the Fujian Sports association Mr Lin Wenxian. He is Mr Big in the world of sports and we sat at a far to large conference table, to discuss the Chinese and western exchange in spreading Dishu Quan. All went well and we are now officially on the Chinese government programme to help Dishu not fade away in years to come.
Shortly after we return to carry on training at the other dishu wushu guan. It's been a fragmented day of training but we learnt so much stuff on how to change from one binding or locking position to the next. Just when you think you begin to know martial arts, the door opens wider and thats the fun of learning in my eyes, the day you think you know it all is the day you stop learning. So more to eat then more training before Zzzzzzzz!
Day Eleven training 16th
We start training and half way through the session Master Lin announces, that we are going to Chen Yijiu's house today……. it was planned for the next day so every ones a bit….Ok… lets change the mindset to performance. After a quick lunch and change of clothes we head off in four cars, with a top man from the government with us. On arrival, we head into a room with an even larger table than yesterday! The Head man of Xiyuan village is there and the purpose of the meeting is to further the exchange between our clubs in England and Denmark and to help spread Dishu Quan more in the coming years.
Plaques and local cork art was passed between each and then the ever growing group of people in the village set off to Chen Yijiu's house. Once there, we take a tour and go into a small room about 5m x 5m. This was Chen Yijiu's home and Master Zai Pei Lin tells us how he learnt most of the secret movements of Dishu with him there and if anyone passed the small window they would have to stop. Out in the courtyard we all perform San Zhan, followed by Neil doing Qi Xing Dui Di, Mat Shuang Bian Fu and a two person routine showing off our binding movements.
In a blink of the eye we were off back to the hotel room! So quick but a very proud moment, as we are now officially registered in the village as Dog Boxers training under Master Zai Pei Lin, in direct linage from Chen Yijiu 6th in line.
The evening is a well earned massage, shopping and sleep Zzzzzzz!
Day Twelve training 17th
Training today was Master Lin checking our forms and all the new things we had learnt on from the trip. Both us and the Chinese Dishu practitioners worked together and even swapped some of our own training methods of conditioning.
The afternoon was a rare break for us to go shopping and relax before the last days training and huge dinner. As ever we put in a few more hours practice at the hotel room, everyones bodies are now feeling the six hours a day of squatting, as everyone of the Dishu forms works on the three levels of fighting so the legs can't not be worked. Another good night of local food was had before bed. Tomorrow we have a lay in as Master Lin has a final meeting with the sports official. Zzzzzzz!
Day Thirteen training 18th
Last day in Fuzhou training, time to pack up the bags and get everything ready for the departure tomorrow. The morning was relaxed as master Lin had a very important meeting in the morning with many of the top Fujian martial arts masters and government officials. We woke up as and when, casual breakfast, then at 1:30pm we started the last lesson….. Training was with most of the other dog boxers that we had met over the years. After a final check of everyones performances and details of what we had been taught on this trip, Master Lin presented me with a letter from the Fujian Dishu Quan boxing association.
Our club White Crane Fighting Arts has been officially recognised by the Chinese government as instrumental in helping spread the art of Dishu into Europe. I as Head Instructor of WCFA club am very proud as seven years ago I was graded as 3rd Duan in Yong Chun, China for my Tiger & Crane combination knowledge and today, I was awarded Master of Dishu Quan and Head Coach of the International Dishu Boxing association. Can the day get any better?……
Master Lin comes back to the hotel after his meetings for an interview in the history of Dishu Quan. Much of the information on Dishu Quan website pages, is not completely factually correct. Our plan is to use the interview content to update our website and the details will be from Master Zai Pei Lin, directly from Master Chen Yijiu.
5:30pm and it is party night! As ever we have a big celebratory meal with lots of drinks to toast each other, cementing friendships even further. This night was very special as there were 30 people attending, The head of Beijing martial arts, the head of Fujian martial arts, 8th Duan, 7th Duan and 6th Duan masters, 3 top Natural Boxing masters, 3 Dishu older brothers from the Xiyuan village, a Golden Lion master, a few friends from other martial arts circles and the six of us!
All the very top guys, must have ranged from 68 – 98 years old….just imagine how many hours training they would have racked up over their combined lives… Many stories and toasts were made, in the early days they were fiercely competitive with one another, but today as older masters they all come together and laugh at the old days. This is one of them occasions where you sit back and wonder if this generation of martial artist will ever come together again?
For sure this has been the best trip to China so far, every one has trained so hard and pushed themselves both mentally and physically to the limit. I am very proud to be pushing the next generation of martial artist forward
Next year is already being planned……
Head Instructor Neil Johnson.