Following weeks of rain and more rain we arrived at the summer camp with our Wellies and waterproofs ready. And it was sunny! I think a summer camp first, and it continued to be so.
After loading Neil's Van with as much gear as possible and a brief moment of the van getting stuck in the mud we set up camp on the upper field the farmer had kindly mown for us. The slope of the field gave us the illusion that we were on a small planet and truly we were in our own world from then on. As soon as camp was made we went down into the hollow under cover of trees to escape the heat for our first Kung Fu session where we concentrated on San Zhan and focussing into the finger tips, thrusting out our spear hands pulling out our fingers rather than pushing them. As always having the time to spend working on techniques in depth was a major part of the camp.

This first session was followed by the first of many chill outs under the gazebos seeking shelter from the sun, eating lots and relaxing. The afternoon session that day was new patterns for us all (Neil matching an amazing array of patterns to each individual) amongst them straight sword, 3rd San Zhan, 3 sectional staff, Dog Boxing San Zhan, White Crane Stamps the Ground, Eight Steps and White Crane Eighteen Special. After this the delights of the solar shower and new shower tent were discovered – a welcome addition to the campsite this year. The night finished very happily with Jet Li's "Fist of Legend".
The next day we started strangely late at 8 a.m. (Was Neil ill?). A nice gentle introduction to the day with salute to the sun stretching and the first 7 moves of Da Mo. Facing the early morning Sun we were truly at one with nature. This was followed by sticking hands where the Graham (soon to be called the Kraken) was found to be invincible, though the Welsh rock (Dave) was close. Breakfast followed and Ben's introduction to the mechanics of the Porta loo which was probably more amusing for us than him!! Relaxing between sessions for some included lying down side by side and throwing a football into the air, the aim to not move or flinch when it landed on you. Lucas proved to be best at that with nerves of steel.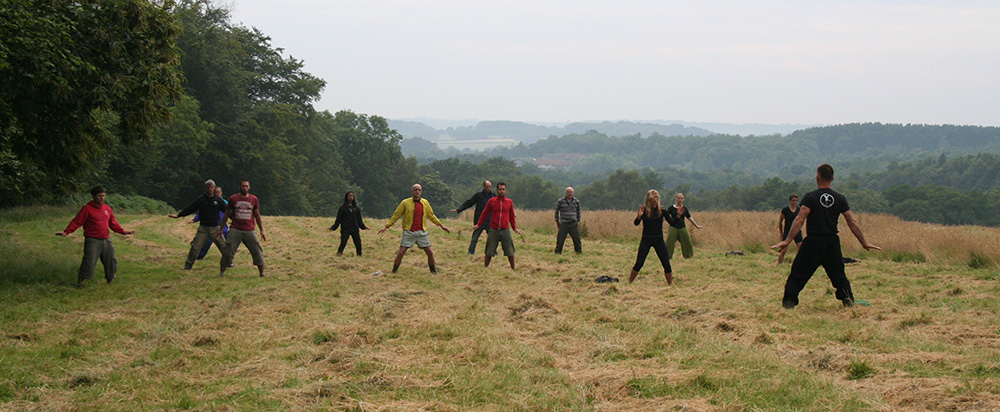 The morning Kung Fu session concentrated on the finger skill patterns, in particular working with each other on applications of 18 special giving everyone the opportunity to work on the myriad of possibilities the techniques can be used for including some foot stamping (sorry Liz) and neck locks. This was interspersed with much slapping of the thighs like deranged Morris dancers as mosquitos homed in on us.
Again the heat of the afternoon forced us under the gazebos though Mark set up a zip wire in his spare time which was much enjoyed by Max and Lucas. The afternoon again found us in the woods working on our new patterns to further engrain them into our minds. Evening we congregated to watch various styles of Kung Fu including some of the most colourful jumpsuits which we suggested could replace our uniform and the special treat of watching the documentary made in China of this year's china trip starring Neil, Liz, Mike, Dave, Bryan and Matt.
Wednesday a.m. we had the usual early start at 7 a.m. with Da Mo, Shuang Yang and sticking hands where the Kraken continued to be formidable. Jen arrived mid-morning for her first camp, where she was quickly introduced to the bizarreness of camp conversations. This was also the day of the naked man (someone really should have checked there was enough water in the solar shower) and glowing Frisbees. Though not both at once.
We continued with applications of 18 special including a particularly interesting knee tendon grip. The afternoon found us again in the woods on our new patterns concreting what had been learnt already and learning more bits. Night time saw us in the woods round a fire celebrating Matita's birthday with a giant chocolate cake and glowing Frisbees.
Thursday, Bryan arrived and we had the whole gang there. We recapped and showed him what we had done in the last few days regarding San Zhan and 18 special which helped us all remember what we had done. Later Bryan joined the 3rd San Zhan team; a pattern that myself and Imogen had discovered made us very hungry. Ben and Mike had reached the ground part of their pattern and luckily for them Liz had brought an extra tarpaulin (in case of rain) which meant they didn't have to roll around in the mud. In the afternoon the boys went shooting down in the woods, whilst some of us went on the daily water run up to the farm to haul down at least 150 litres of water. I'm sure this was part of the training too. Evening found us watching some very old footage of tiger-crane which was interesting to see from so many years ago and comparing what we do now.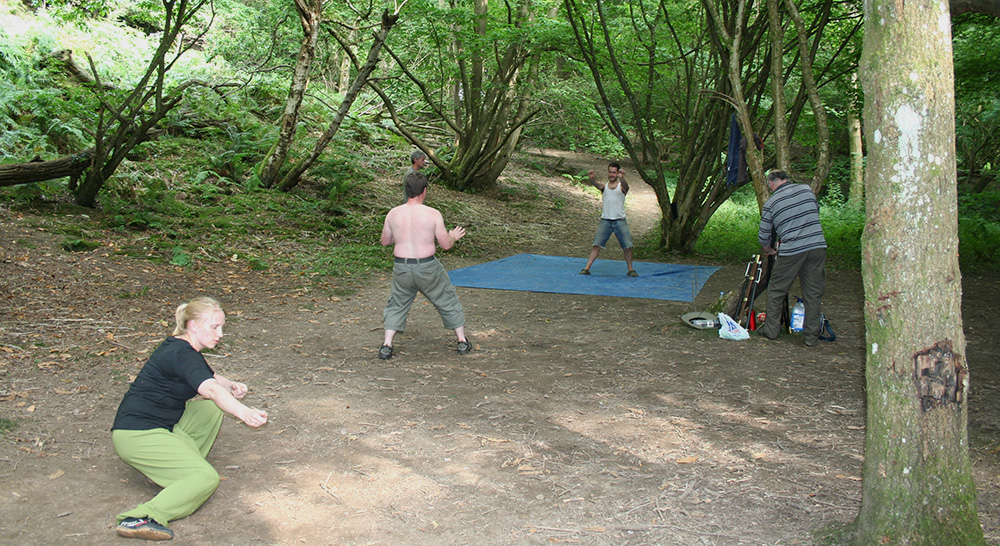 Friday morning was Iron shirt training going from more gentle soft chi gung, into harder chi gung and pair work. Then in groups of five we started a circuit including hitting our shins with bundles of wood, the braver ones choosing the steel bar or rods, spear hands into a pot of ball bearings and the torture of winding a weight on a wooden cylinder using tiger hands to grip. Today was sadly mine and Imogen's last day. We had to say good bye to the one-antennae cricket who had been lodging in our tent for the last few days. We also had the last chance to work on 3rd San Zhan and any patterns we wanted to brush up on. Imogen learning the last part of her broad sword inadvertently started chopping down a few trees . At some stage we joined the straight swords team to work on some of the bagua footwork which was made easier by etching a cross into the ground.
The last two days I heard were filled with training and for a finally, the kung Fu Olympics involving running, rolling, climbing, zip wires, shooting and balancing. The evening was the usual fun party atmosphere and messiness with marsh mallows. Hopefully cycling Mike has managed to get the marshmallows out of his eyebrows now.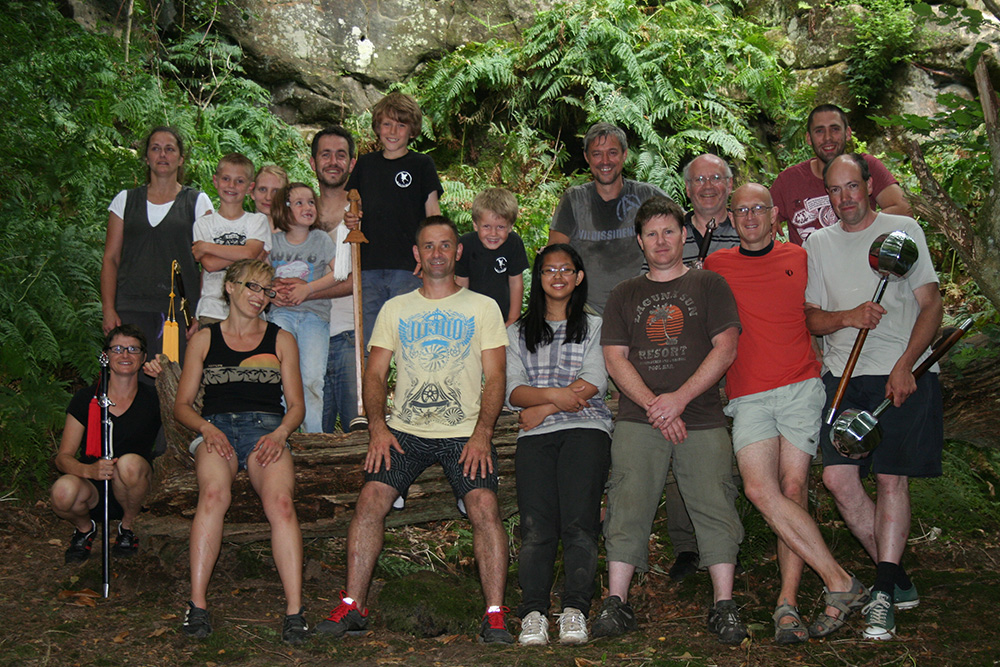 And so another camp over. Days spent doing kung Fu and tai chi, eating masses, sleeping and laughing lots. I know I've come away with a deeper understanding of my patterns and how to perhaps view and practice them in a more meaningful way.
Ali Canalis