Summer camp, New Forest 2009
I watched folk strolling along Madeira Drive with their chins lifted, smiling, enjoying the gentle warmth of the English sun. Gold glinted on a shifting turquoise sea speckled with whitecaps and distant sails. This, I decided as I prepared my bulky kit and tried to remember everything I might need, was an especially auspicious start to 2009's Summer Camp.
This year the club was staying at Roundhill near the village of Brockenhurst in the New Forest. In previous years we'd travelled to rugged Cornwall, but we'd outgrown the campsite and Neil (Johnson, Head Instructor) had decided that we'd all benefit from new surroundings. I had to agree; I enjoyed Cornwall, but last year's weather had been harsh and the commercial campsite we had stayed at had become a quagmire. This year we'd be swapping beaches for forest tracks, cycling out in as one grand freewheeling pack, finding a suitable spot, and doing what we came to do: train. We had a pitch far from other campers surrounded by the forest on three sides, so even if it rained we wouldn't have cars churning up mud and an atmospheric vista to enjoy from the shelter of our tents.
Thoughts of rain were fleeting, though. When Pete and Toby collected me from my home on Brighton seafront the day was as described; glorious. With the weight of my kit added to the bikes and bags already packed, Pete's poor hatchback almost pulled a wheelie when he pulled away. A quick pit stop for snacks and a map (a more reliable alternative to the cranky Satnav system) and we were off through the Sussex countryside heading westward.
When not required to map read I reflected on the camp syllabus as hinted at by Neil. This year we'd be looking in detail at the principles of the style, their names and correct definitions. Now, I've been training a fair old while, almost thirteen years, and I've accumulated a lot of knowledge during that time, so I was quietly confident that I knew what was coming, but what I didn't quite appreciate was how disconnected all of that information was. I had no unifying theory to tie it together, what is described as underpinning knowledge in the industry that I work in.
That was going to change.
So, following a brief stop in a small village with a large camping store for the inevitable bits and pieces that we forgot (in my case, practically everything), and once I had finally prised Pete's face away from the glass case full of knives ('A tomahawk! Look at the cool tomahawk!'), we made Roundhill in the early afternoon.
Most of the club was already there, erecting tents and the two gazebos that we would dine in. I was billeted in Pod 2 of Neil's massive canvas hotel of a tent and then went to help construct, lash down and pony-proof the gazebos, smiling at kung-fu students playing in the hot sun like cub scouts.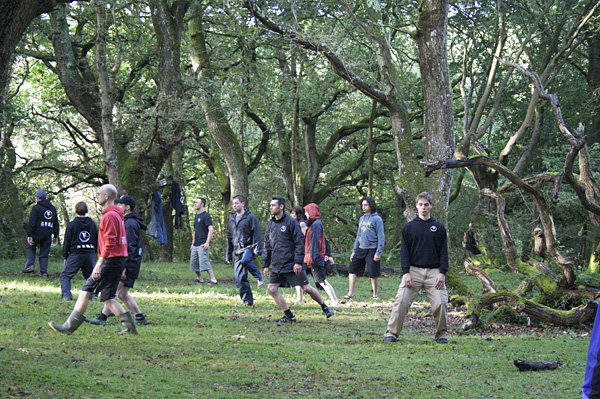 As with previous years, the first day was about orientation. Neil explained to the assembled group that his intention for the camp was to develop our understanding and ability to employ the principles of the style when training our patterns or in the fight. Not a small task, I noted to myself. Each day would build on the previous, and would challenge different students at different levels. We would follow the same approximate programme each day: Training would begin at 0700, starting with the Da-Mo exercises, then an hours' Shuang-Yang, then a Patterns Jam (our affectionate term for doing all the forms you know over and over again), before morning ablutions and a huge breakfast. While tidying and digesting we would make a packed lunch, select a route, cycle off for a few miles in an interesting direction, then train for another couple of hours before troughing down and cycling back the long way. Mid afternoon would be reserved for personal practice and 'special projects', and then there would be an afternoon session of Dog Style and then sparring, each for around an hour. Following that, the group would prepare dinner and we would feast! It was announced that this year's extra curricular activity (who can forget last year's paintball extravaganza? Certainly not poor Cobra) would be to make functioning bows and arrows from local materials. Oh, you cannot imagine how happy that made me! I had to restrain myself from immediately donning Pete's camouflage forage cap (which I barely took off all week) and running bare-chested about the woods looking for materials.
So that afternoon we sparred, we rolled around like loons attempting to bind each other from the ground using Dog Style techniques, then had our first evening meal. Much excited banter later, we retired.
The following few days whipped by. We selected a spot for our regular morning training by group consensus; over a ridge lay a sheltered wooded valley, at the base of which was a clearing containing a lightning tree, half of which was dead, split, smooth and without bark, the other half still vibrant and green, stretching skyward. This, we decided, was exactly where we wanted to be to watch the sun rise through the lush canopy. Breakfast and dinner was always a jolly, rowdy affair, which everyone took on preparing and cleaning up after with exuberance and high-spirits. Our daily ride out led us across heath and through woodland, a gang of kids of all ages skidding and splashing and racing each other. Our muscles began to grow accustomed to the constant work, juniors grew in confidence, seniors were challenged, and instructors pushed. I ate huge meals, went about without a shirt whenever I could, lived in my forage cap, read by lamplight and spoke on every subject with refreshing frankness with my campmates. We began to live it.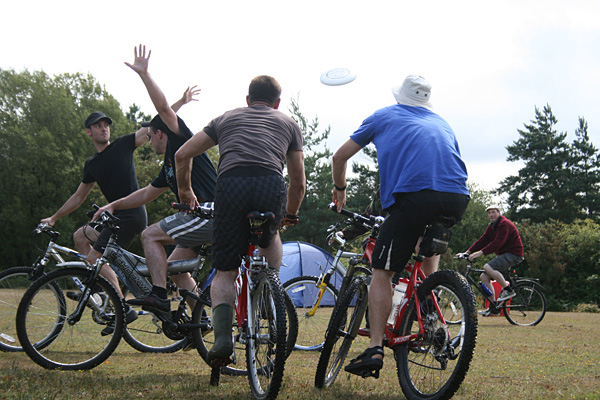 By halfway through the week we had already explored the principles of Bei He Zhan Shu in incredible detail literally from the feet up, and now we were incorporating them into our daily practice. The sequence of patterns beginning with White Crane Eighteen Special and followed by Finger Explosion (affectionately known as Special Needs and Finger Bang) was concluded by the addition of Lo Han Monk's Single Golden Finger (no guessing what nickname that pattern gained). The bows were coming on, the evidence of which being piles of whittled wood everywhere on site. The nicknames were cemented (Cobra, Dash, SAS Dave, Bang-Bang, Squarefoot, and myself, Wilderness), and a unique high-energy team game with no clear rules or victory conditions named Bike Frisbee was established as the camp sport du jour populaire, which, needless to say, all grew quite competitive, even though we didn't have a clear idea of what we were competing for.
Sometimes the weather was against us. One notable afternoon it rained so hard that Cobra was left doing butterfly legs alone in the deep puddles left by the passing monsoon while the rest of us huddled under trees. Another day it rained down on us while we biked along a woodland track, turning it into slushy mud (huge fun!) which left us covered in muck and grinning like children. These damp interludes were infrequent, however, and we dried out soon enough in the hot sun that followed the clouds.
It was Wednesday that I had my epiphany. During the afternoon session we had taken a break from sparring to study our patterns. As I mentioned, I've accumulated a fair amount of knowledge about Kung-fu, so when Neil started talking about Three-part Power I relaxed, thinking I knew it all. How very wrong I was. As I listened, I began to realize that my understanding of Three-part Power was very remedial, and only a tiny part of the power generation system relying on the 'Bagua of The Body'. Suddenly, the hours of drilling the early principles of the style slotted neatly and cleanly into place – without that initial precision the Bagua wouldn't function. If the Bagua didn't function there could be no power generation, no sinking, no redirection or summoning of energy, no access to the Dan Tien… All of the disconnected information I had gathered began to form a cohesive whole. Imogen (Thomas, Portsmouth Instructor) and I grew excited. We had both grown up in the martial arts hoarding what knowledge we could, but were never taught a unifying theory. Here, it seemed, was that theory. We got the enormity of it, even if we couldn't yet articulate what we had gained. This was the core of the Theory of Gun, and it was a biggie. Once I had stopped frothing at the mouth I realized just how damned clever Neil was – the camp had been structured in such a way that each individual gained the knowledge they needed for their development at their own level and in their own time. A bit humbled, I got down to work: It doesn't matter how profound an insight is if you can't use it.
As an aside it should be noted that the Theory of Gun, or Chuan, is just that; a theory. One of things I love about Kung-fu is that it very rarely claims absolutes. If a theory becomes a law it is fixed. Traditional martial arts are constantly evolving, and while each generation develops and refines the understanding of previous practitioners they never claim 'right, this is it: The Truth'. To do that would be to end that process of refinement.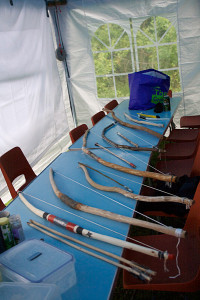 The following afternoon was almost marred by tragedy (please note that this is a massive exaggeration, but go with it for dramatic reasons). Pete's bow was ready for a test shoot. It was a beauty, and had taken four of us (!) to string so we knew it had some grunt. I had made some arrows from rosewood that looked pretty straight, with pigeon feather flights provided by Milad that I had sewn on with dental floss. As the experienced archer I got first shot across the open field. I drew and loosed, and our elegant-but-heavy arrows travelled about fifty yards before imbedding nicely in the soft earth. Much back slapping amongst the team followed. Intrigued by what our baby could do I nocked Neil's arrow, a much slimmer affair, drew back as far as I could and loosed once again. This time the arrow really flew. And Flew, and continued flying, eventually punching through both layers of Milad and Cobra's tent two hundred yards hence in exactly the place a man might lay his head to sleep. Our initial reaction was panic at the thought of holing the tent, and then we thought about its possible occupants. We knew that Cobra was off rehearsing with General Bell and the camp band so he was safe, but we hadn't seen Milad for some time.
As one we ran across the field. There was the arrow, buried in the tent with only the flights showing. Nervously, we opened the zip. Milad wasn't in: He had gone shopping for the camp supplies. There was great relief. Both Cobra and Milad took the 'using your tent as target practice and almost impaling you in the face' thing fairly well, actually, and new improvised archery safety rules were introduced immediately.
Each year we like to get Neil a little something to say thanks. This year On Your Bike Mike hit on the excellent idea of replacing the basic front forks of his bike with pneumatic shocks. Making up the usual bogus story to distract him (I don't know how he always falls for it, I really don't), Mike smuggled the bike out and had it refitted, claiming that there was a problem with the gears and that he 'had to get a part'. This new springy beast was presented to Neil on the last night following some elegant words from Teo (Sartori, Aarhus Instructor).
We had sewn up the camp; our training was done. Our last dinner was an excellent fish supper (no clearing up!), at which we were serenaded by The Transexual Biker and The Sweaty Bananas, performing acoustic-operatic pop-folk classics with an unexpected guest vocal performance by Cobra-as-David Tennant-as-Doctor Who, then the archery competition, won by Milad and Harrison in their individual events, and finally a kung-fu movie and a noisy party that saw, to my shame, me falling through the side of a gazebo during a messy dance-off with Riem.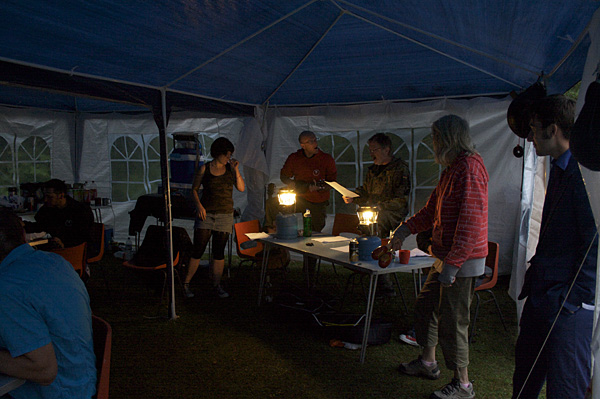 This year was a triumph. I can't over-exaggerate just how much you gain from attending summer camp. It's synergistic, greater than the sum of its parts. You learn so much and work so hard, and while you feel tired you also feel constantly energised. All you have to concern yourself with is training, eating, sleeping and enjoying the process, and that allows you to be uniquely present to the experience. That aside, it's the sense of community, the fun, the ribald humour, the wit, the adventurousness, the vigour and positivity of the attendees that makes the experience of summer camp truly unique, and it's a sad thing to say goodbye to each other at the end; you've been living together other for over a week and you feel like a family.
I returned home to Brighton nine days later, eager to see my beautiful wife and darling son, brown and lean, excited by what I had learned and eager to share it with my own students, and consoled that I'll get to see my Other Family, you lot, in class every week.
Until then, Badgers.
'Wilderness' Ken MacKriell