Head Instructor of White Crane Fighting Arts,
Graded in China, 7th Duan Chinese Wushu Association 2017
Endorsed and performed at the Putian Southern Shaolin Temple 2017
Five times gold medallist and over all points cup winner
Fuzhou martial arts national competition 2013.
Appointed in China, Master of Shaolin Dog Boxing,
Director & Head International Instructor of the Dishu Boxing Training Centre of Fujian China 2010.
Neil Johnson has been involved in martial arts most of his life, starting his martial arts training in Brighton doing Judo and Karate. His Grandfather, John James Hill, died at 71 having done 51 years of Judo, truly an inspiration to him. As with most children of a young age, there were so many things in life to try, his martial arts training came to an end after a few years.
It was not until Neil was 25 years old that he started learning the Tiger Crane Kungfu and Shuang Yang soft style crane boxing system from the Fujian province. It was then that he really immersed himself into the Chinese arts. Neil believes that traditional martial arts have so much more to them than what people can ever imagine and it is this depth and interest that has gripped Neil ever since.
Neil's dedication is shown, in his skills after studying under some of the very top white crane masters in China during his first thirteen years training. In 2005, Neil passed his 3rd Duan in Yong Chun County under the Chinese Wushu Association. He will be going to Fujian province, in China again this February as he has for the last sixteen years with some of his top senior students to continue furthering his research and knowledge of the Hu Hè Shuang Xing Quan (Tiger Crane Combination) and Dishu Quan (Dog style ground technique).
It is known that Master Ang Lian Huat, the founder to the core system of White Crane Fighting Arts, had some knowledge of the Nun style DiShu Quan but much of this knowledge has been lost over the years; Neil has been researching the style under Master Zai Pei Lin's tuition (7 Duan) he is officially advisor to the WCFA club. Neil was accepted to open classes in DiShu Quan in the UK, after our club's very successful visit to China in 2008.
In 2011, Neil was successful in arranging Master ZaiPei Lin to visit England, to teach the WCFA members. This is quite an achievement as it is hard for China's national treasures to get a visa to leave in case they don't come back. Many clubs have tried but failed to get top masters to teach outside of China.
In 2012, Neil Johnson was made Master of Dishu Quan, Director and Head International Coach of the overseas division of the Dishu Boxing Training Centre of Fujian China. It was a very proud moment for him, eight years after his last grading in China. Many performances were done to other boxers and also involved two governmental meetings.
Finally, a demonstration was held at the old house of Grand Master Chen YiJiu in the XiYuan Village. The local Fuzhou TV station covered the story and made a 3rd documentary on our clubs visits to China. This has been instrumental in helping the local people to start training in Dishu Quan, spreading the art for the future.
In the first ten years, Neil won every year competing in full contact SanDa competitions twice a year, apart from the one time when he dislocated his knee the day before, but still entered the event, just for the fun. As his training developed he also started winning the open hand forms, and weapons categories. He has performed in China on numerous trips to Fujian provinces. One of the highlights of Neil's early martial arts experience was demonstrating in the Yong Chun white crane festival in 2003. People from all over China, Taiwan, Malaysia and Europe all sharing a common passion demonstrating their art, showed just how much dedication they had put into their style or systems of kung fu.
The trips to China made Neil realise just how far he still had to go to improve on his skills and to better the level of martial arts in Europe. Neil's aim as an instructor in martial arts is to teach real traditional kungfu and Taichi that is not only good for an individual's health, but also is an effective martial art. Neil believes that a lot of martial arts now days in the western world are too sport oriented and can often forget what martial arts were developed for. In the past kungfu had no rules and so was not about scoring points; it was about survival. Competitions and gradings in this day and age can provide an excellent way for a student to push themselves on to the next goal and provide them with the mental focus to progress but ultimately, you are training against your own self motivation.
Neil has always been good at making things with his hands and has been described as the perfect thing to take on a deserted island if stranded for survival, but as a dyslexic, he is most proud of studying the other side of martial arts and that is learning Mandarin Chinese over the last six years. In 2012, it was the first year he went to China with out the need for a translator during training other than to help with the details of old stories and some of the obscure names of all the movements. Getting around and ordering food is no longer a problem.
Neil also makes most of the Shaolin weapons himself in the traditional ways at home giving him a better understanding of the balance required for the individual students needs. A lot of people start martial arts thinking about fitness or how to look after themselves but little do they realise, it helps to develop a lot more than that; It can help the mind, body, self defence, flexibility, awareness, self control, confidence, respect, social life, posture and stop asthma …to name but a few. Neil believes that if he can pass his knowledge on and help people better their own lives on the way, he has achieved his goal and is able to do what he loves to do as a life style.
White Crane Fighting Arts teach the three arts, Shuang Yang Bai Hè Rou Ruan Quan (Soft Crane Boxing), Hu Hè Shuang Xing Quan (Tiger & Crane Combination) and Dishu Quan (Ground technique kungfu). All three styles fundamentally work well together, helping the stylist to become a rounded martial artist.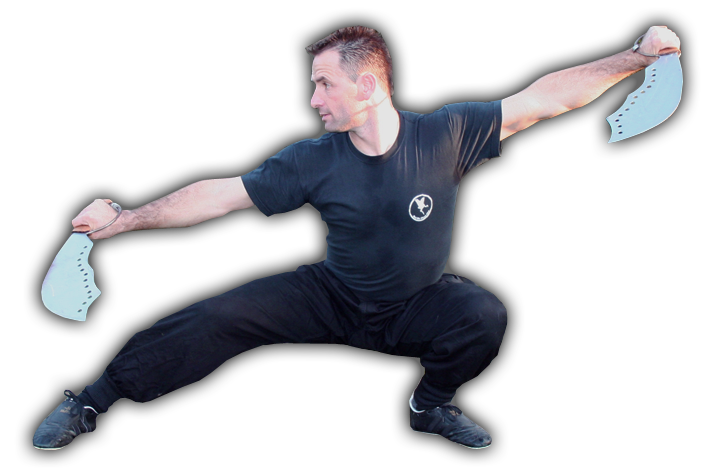 So if you would like to learn under a full time traditional instructor, call Neil Johnson or send him an E-mail on the details listed below.
Head Instructor Neil Johnson
07976 260710
  neil@whitecranefightingarts.com
Neil Johnson Graded 3rd Duan under the Chinese Wushu Association 2005.
Neil Johnson Master of Dishu Quan & Head International coach of Dishu Quan
Received this letter of achievement from the Chinese government, upon recommendation of 7th Duan Master Zai Pei Lin on the 2012 trip to China.
Neil Johnson received this certificate that authorizes him to officially impart DiShu Boxing in the United Kingdom from Master ZaiPei Lin on the 2016 trip to China.